'Six': Kyle Schmid Previews the Fall of a SEAL Team Leader
As the mission to save captured ex-SEAL Rip Taggart (Walton Goggins) commences tonight, the truth about his fall from grace comes to light. And it's not pretty.
So far, viewers have only seen Taggart's reckless killing of an unarmed American who surrendered during an op years back, but like that secret—which weighs on the souls of his former teammates Caulder (Kyle Schmid), Graves (Barry Sloane) and Ortiz (Juan Pablo Raba)—there is a more to the story about the ties that bind these guys. "They're the ones carrying the biggest secret, so you know we're the three amigos," says Schmid, adding that, for his character, a less-than-idyllic childhood led to Caulder's early admiration for Rip.
"Caulder never had a father and because of that he had a lot of issues with authority after joining BUDS [Basic Underwater Demolition/SEAL] training," continues the vet of Syfy's Being Human. "At first, he butt heads with Rip, but ultimately allowed him to become a father figure once he finally allowed himself to feel again." The evolution of their relationship, as well as his often contentious dynamic with Graves, is played out in flashbacks this evening which eventually show how the job wore down Taggart from the inside out. While Graves wants to protect their friend, Caulder opts to put him on blast. "When Rip slowly falls from that pedestal that a son can put a father on, it can be a very heartbreaking experience," previews Schmid. "Caulder makes a big decision to confront Rip about his mentality and the decisions that he's making in the field, which are no longer what would represent a SEAL, and in return Rip decides to take an early retirement and walk away from us…his family."
The hour also explores the bond SEALs develop during training, which Schmid and his costars experienced as well, courtesy of their pre-filming SealFit boot camp (see above). "After four days, guys who had just met each other would do anything for each other. I'm closer with these guys than most people I have known my entire life," he notes the arduous undertaking (imagine the bastard child of Crossfit, American Ninja Warrior and government-ordained torture). "SealFit was one of the most important and difficult experiences I've had to date. Not only did it challenge us in every possible way and push us to places I truly didn't know existed, but when you reach your physical peak, you then learn there's another 60% within you that can go on mentally and physically."
Still, all the blood, sweat and sleep deprivation was worth it. "Physically, it's very demanding, it's very difficult, but not in comparison to the responsibility I think we all shoulder when it comes to wanting to make the best [show]," Schmid offers. "Because we know how it important it is to honor the men and women we are trying to represent."
Six, Wednesdays, 10/9c, History Channel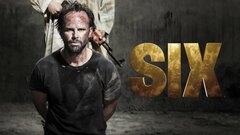 SIX
where to stream
Powered by