Arianne Zucker Previews Her Crazy 'Days of Our Lives' Mama Drama
It's never a good sign when you start out your life working in porn. Days of Our Lives' Nicole Walker—played by Arianne Zucker—has endured years of heartbreak, much of it triggered by her deep need to be loved and to have a child. Now, after two miscarriages and being pronounced barren, Nicole finally has a little girl, thanks to her best friend, Chloe (Nadia Bjorlin), who delivered the baby via surrogacy using one of Nicole's embryos. But, hey, this is Days! Chloe now wants to keep that kid and the court has sided with her because, well, Nicole has a reputation for being pretty freakin' nutty. On March 1, Nicole will kidnap her own baby and go on the lam. This can't end well, right? Zucker weighs in.
What the hell is Nicole thinking?
I don't know! Is she thinking? All she wants is some precious time with this teeny-tiny baby. It means everything to her. It could last a week. It could last for years. All she knows for sure is that this is the moment, and she's seizing it. I don't think there's any mother who watches our show who wouldn't understand why Nicole is doing this. [Laughs] Well, except for the ones who hate my character.
To make matters worse, Eric—the ex-priest who killed Nicole's true love, Daniel, in a drunk-driving accident—is suddenly out of jail.
Yeah, and Nicole wants him dead. I think she really would kill Eric if she got the chance. The grief she feels over losing Daniel—who brought her the only true happiness she'd had in years—is unimaginable. She just can't let it go. Days can get kinda kooky, but this pain Nicole feels is raw and real. It brings a lot of truth to the show.
C'mon, admit it, you don't really want Nicole to be happy. Isn't that the kiss of death on soaps?
Well, I've certainly done very well by her being miserable! [Laughs] For quite a while, she was an actual villain. I'm proud of the fact—really thrilled—that my character is still around. I'm always trying to find a way to make sure the audience still cares about her. So, yeah, I'll take the tragedy! Besides, if you want happiness, no one should move to Salem.
See Also
The long-running soap opera's fate was up in the air due to Megyn Kelly's arrival at NBC.
Let's play shrink. Do you think Nicole is actually, certifiably crazy or just impossibly foolish?
I think she used to be crazy. She's grown. [Laughs] Well, sort of. I mean, she certainly makes one bad choice after another and it just never stops. So, yeah, maybe she's crazy, but you still want to root for her. Nicole has no family members, none that have stuck around anyway. She's not really connected to anybody in town, and that says a lot about how much loss and disappointment the character has been through. She wants love wherever she can get it, and she is so desperate to have it that she literally gets in her own way. That's where all the tragedy happens. She consistently puts herself in the wrong place at the wrong time. And there's a lot of karma hitting her in the face for all her past misdeeds.
Which was the worst, in your opinion?
Hands down, it was the time Nicole snuck into the operating room while Chloe was having her facial scars removed and put flesh-eating bacteria on the scalpel without the surgeon and the nurses knowing it. It's been 12 years and I still can't believe she did that. [Laughs] Or that Nicole and Chloe actually were friends after that. They fight like sisters and love like sisters. I love that dynamic. Even though Nicole really hates Chloe right now, because of this baby battle, I think she understands why Chloe is doing this—to protect the baby from Deimos.
Hmmm…it seems a little more twisted than that. Don't you think there's more to Chloe's obsession with Holly? It's just not sane.
Oh, I definitely think there's some sort of postpartum something or other going on. She's not thinking clearly. Some synapses are just not connecting. But, noooo! Nicole's the villain here! Nicole did porn! [Laughs] Killers are walking the streets of Salem, but blame everything on Nicole!
Was there ever a time you thought the audience simply wouldn't forgive Nicole?
When I heard that my character was going to fake a pregnancy with E.J. and kidnap baby Sydney, I thought, "No way! There is no way in hell that I can pull this off! If they don't hate me already, they're sure gonna hate me now!" And the story ran two years.
See Also
The soap icon dishes on her character's newly discovered African-American grandson, her longevity in the business, and how she and husband Bill like to Netflix and Chill.
One thing Nicole can't complain about: She's never at a loss for men. In fact, she's usually juggling.
Like my mother always told me, "Ari, have a backup plan."
Which guy do the fans most want to see with Nicole
There's definitely a Deimos camp. A lot of people like that chemistry. But there's also a huge group for Nicole and Brady, and also for Nicole and Eric, who was her first great love. But she's just too upset with him for that to happen again anytime soon. The great thing about Brady and Nicole is that, no matter what dumb, horrible, insanely ridiculous things she does, Brady's still her friend. [Laughs] He's, like, "That gal is so damn messed up. But you know what? I like it!"
Days of Our Lives, Weekdays, NBC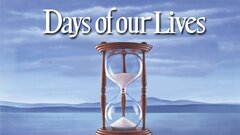 Powered by