Susan Seaforth Hayes Is Still in the Game—After 5 Decades on 'Days of our Lives'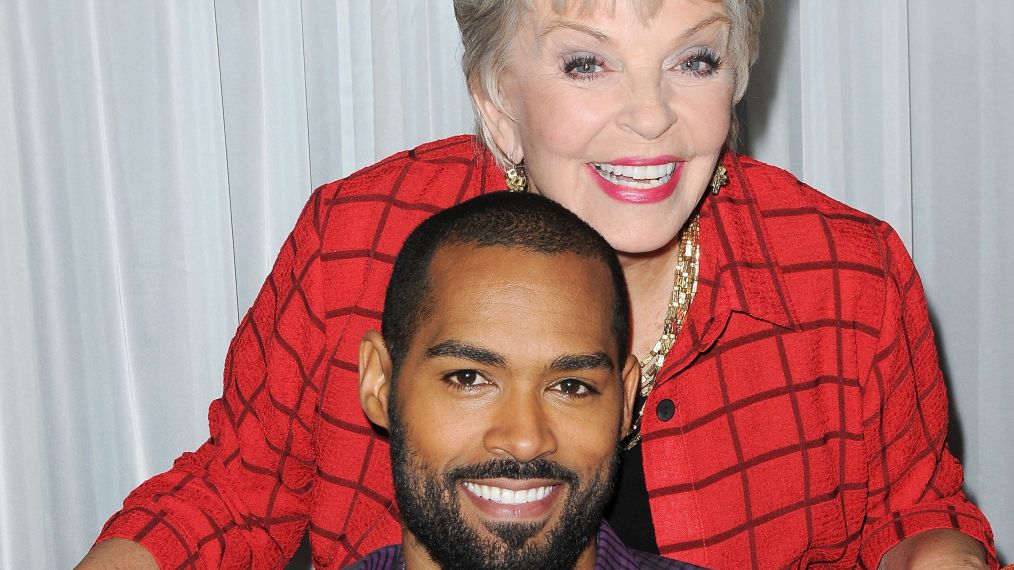 Now this is a survivor. It's been nearly half a century since Susan Seaforth Hayes hit NBC's Days of Our Lives as that irresistible bad seed, Julie Olson, and she's still got the gig. Granted, she and her on- and off-screen hubby, Bill Hayes (Doug), have weathered long periods on the show's back burner, but her character will be prominent in a big February sweeps plot that packs quite a twist: a shocking event will result in Julie finding out she has a black grandson she didn't know existed (Eli Grant, played by former The Young and the Restless star Lamon Archey). La Hayes gave us the scoop.
Finally, an actual story for Julie! But why are we only now hearing about Eli?
We're digging into ancient history here. Of course, we're connecting to that history in a curving line that leaves out 30 or 40 years of story. [Laughs] But, hey, I'll take it! Back in the 1970s, Days tried an interracial love story with Julie's son, David, falling in love with an African-American girl named Valerie, but NBC got nervous, pulled the plug and both characters went away for a while. We were attempting at that time to break some ground, but it's taken this long to see a flower rising up through the ground we broke. Now that Valerie [Vanessa Williams] is back in town we're finding out that she had David's baby and she told no one. Not even David or Eli.
RELATED: Days of Our Lives' Billy Flynn, Marci Miller and Camila Banus Dish Their Wild Triangle
So what does Julie think of Valerie's deceit?
[Laughs] Nothing good. There'll be lots of conflict, a lot of mistrust. We're shooting months ahead of what you're seeing on air and it's still playing out. The fact that Valerie kept this secret is not going to just go away. But, unlike Julie, I can understand why her having a child might not have come up. There was a stepfather involved. And people deal with birth [issues] in very different ways. My own mother [the late Elizabeth Harrower, an actress and former Days writer] was adopted and she was not told about it until she was 12, but she loved her stepfather so much she didn't want anything to do with her birth family. So I'm very familiar with that whole "Let's not talk about it" approach. "Those people weren't there so they don't count!" But sometimes those people want to count. And the Horton family really wants to embrace this new young man. There's a lot of meaty material there and I'm doing some risky stuff. The good thing is that Julie is entranced by Eli. He's an FBI agent and quite the hero—though he seems to be doing more romancing in Salem than detective work. And whaddaya know? He really likes Julie too.
Gee, you sound surprised.
A grandkid treating a grandparent with love on a daytime soap is kind of radical, and I don't know why. Bill and I are blessed with 12 grandchildren and 23 great-grandchildren, and they pay attention to us, respect us, vacation with us. I have one grandson who even tattooed his arm with an hourglass in honor of our work on Days. They really love us! I think the Days fans—especially the old-timers—really want to see that sort of thing. This new story attaches Julie to the younger branch of the family in a warm and welcoming way. I don't know what will happen with our fresh young writing team, but I would hope that Julie could join in on some of Eli's adventures, like Alice Horton did with Bo Brady back in the day. I don't know that the new team would see the value in that, but I certainly do! David also has a half-brother, Scotty, who disappeared back in the eighties. I keep saying to the writers, "Julie has all kinds of missing relatives!" But I haven't been under contract since 1993. [Laughs] So who knows what they know?
You and Bill are old school in all the best ways. When you appear in a scene you guys are fully invested and committed and gloriously present, unlike some of these young ones who only seem to wake up when it's their turn to mumble a line.
Most of the young people seem to like working with us, though the turnover has been pretty fast. I watched the Christmas show and was astonished at how loud I was compared to everybody else. So there's that. [Laughs]
Shocking! You can actually be heard by us folks at home.
I figure that the people watching us in their living rooms might be doing other things at the same time, as so many do. Maybe they're talking. Maybe they're having lunch. Or ironing. Everyone has distractions, so I want them hear it and get it! Of course, those same people then come to the theater and keep talking like they're home watching television! [Laughs]
Coolest fact ever: You and Bill made the cover of Time magazine in 1976 with the sizzling headline "Sex and Suffering in the Afternoon." What do you remember about that photo shoot?
Well, I planned the whole thing! I wanted to wear red to match the red binding of Time and I gave them a lot of tears and that was the picture they got. I've always been rather proud of it. It's too late now but if I was starting over in this business I wouldn't act. I'd be in production creating other people's stories. An actor has so little control. [Laughs] My entire life has been about trying to get some. What ridiculous work to get into!
How did you handle those times when the Days writers didn't give a crap about your character?
You have to detach. You have to say to yourself, "I am not Days of Our Lives. There is more to my life than this soap!" I've seen actors go downhill mentally when they're not working—especially actors who thought they were indispensable. I don't want to be that person. So I consider every script to be a gift. A sweet little prize. An unexpected bauble coming through the ether. The key to happiness is to not expect anything! And, als0, to be grateful for everything that's going right. Every night before dinner and the evening news, Bill and I will look at each other and say grace and express our deep gratitude for our wonderful marriage. And when I can't face the news I say, "Let's turn on Netflix."
Hold on. You mean Bill and Susan Hayes are members of the Netflix and Chill Club?
I light a few candles. Then I turn out the lights. We get under a blanket. [Laughs] And, yes…we chill!
---
Like Sands Through the Hourglass…
So are the Hayes of our lives:
1970 Con man Doug Williams is paid to seduce the very married Julie. They fall madly in love.
1972 Doug and Julie get into a whopper of a fight. He retaliates by marrying her mother. "We were always a rather twisted bunch," cracks Susan. "But that was inappropriate."
1976 Doug and Julie wed (left). Bill and Susan make the cover of Time magazine.
1979 Kitchen nightmare: Julie's face is scarred for life in an oven blast.
1981 Wedding No. 2.
1994 Wedding No. 3. "Doug's emotions were sometimes questionable," Susan says. "His libido was not."
2004 Julie is widowed when Doug is slain by the Salem Stalker. Surprise! He's alive and well on a secret island called Melaswen—New Salem spelled backward.
2014 Julie's cousin Nick is killed and she's still pissed about it! "Julie was always the rash one who says too much, who always has to apologize," says Susan. "That's been wonderful to play!"
Days of Our Lives, Weekdays, NBC