What's On: Heartbreak for Bonnie on 'Mom' and a spat between Sheldon and Amy on 'The Big Bang Theory'
Mom (9/8c, CBS): It's official. Valentine's Day is over—at least in the worlds of CBS's best comedies. On Mom, Bonnie (Emmy winner Allison Janney) is reeling over being dumped by Adam (William Fichtner) after she stepped out with that guy from JAG last week. Her despair is contagious, so Christy (Anna Faris) goes begging for him to forgive her wayward and repentant mom. Earlier, on The Big Bang Theory (8/7c), Sheldon (Jim Parsons) and Amy (Mayim Bialik) have their first official couples' fight since cohabitating when she learns he's been sharing intimate secrets with colleagues at the university. Will he never learn?
Nashville (9/8c, CMT): One of the better storylines in this resurgent season, involving Juliette's (Hayden Panetierre) physical and psychological recovery from the plane crash, could so easily have gone off the melodramatic rails, but instead took the character into new spiritual dimensions. She's now hoping to get Hallie's church choir to collaborate with her on a gospel album, but some of the singers must have watched this show in previous seasons, because they're skeptical of her motives. Let's pray they end up making beautiful music together.
Riverdale (9/8c, The CW): As mentioned earlier this week in an Ask Matt column, people really do need to check out this darkly compelling mystery soap inspired by the iconic Archie comics characters. Betty (Lili Reinhart), likened in voice-over to a "Hitchcock blonde," is back in Nancy Drew mode, looking into Miss Grundy's (Sarah Habel) cloudy past, which could complicate her already troubled relationship with Archie (KJ Apa). And here's a crusade I can identity with, as Jughead (Cole Sprouse) has very personal reasons for lobbying to save Riverdale's last remaining drive-in movie theater. Remember those?
Inside Thursday TV: A second season of Crackle's animated superhero comedy SuperMansion picks up with Titanium Rex (Bryan Cranston) and the League of Freedom in disarray after the destruction by Dr. Devizo of the aforementioned SuperMansion. … The always game and never retiring William Shatner tries his hand at stand-up comedy in a new installment of AXS TV's Gotham Comedy Live (10/9c). … The finals begin on Bravo's Top Chef (10/9c) as the three remaining chef-testants are rejoined by the winner of Last Chance Kitchen for a savory challenge to create a dish using goat in Guadalajara, Mexico.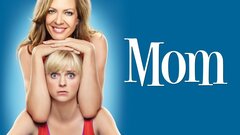 Mom
where to stream
Powered by