Miles From Tomorrowland: Disney Junior Launches Ambitious New Series
The future ain't what it used to be–and Disney Junior hopes to fix that. The kiddie cable channel has launched an ambitious cartoon series, Miles From Tomorrowland, about a family of four that is living and working in outer space. Boasting a high-profile voice cast that includes Olivia Munn, Adrian Grenier, Bill Nye, Mark Hamill, and former Star Trekkers George Takei and Wil Wheaton, Miles follows the happy-go-lucky members of the Callisto clan as they chart unknown corners of the galaxy, repair damaged spacecraft, and develop superspace highways, all on behalf of the Tomorrowland Transit Authority. Big assignments, to be sure, but the goal of the series is even bigger.
"There was a time when space exploration really excited kids–especially those of the Apollo era–but over the years, there's been a real loss of interest," creator Sascha Paladino (Henry Hugglemonster) says. "Our mission is to help bring back that excitement and encourage young people to dream large–as large as the universe. Just the word Tomorrowland stimulates the imagination and celebrates progress."
Walt Disney certainly thought so: 60 years ago, he used it as the name of an area of his then-new theme park, Disneyland. And the branding continues: This spring, George Clooney stars in the Disney mystery feature Tomorrowland, inspired in part by Walt's landmark attractions at the 1964 New York World's Fair.
But Miles is more than a future-is-fab show. "There's a real emphasis on heart and emotion in the family relationships," says Nancy Kanter, executive vice president of original programming at Disney Junior Worldwide. "We also look at gender roles and how they're increasingly fluid." Here, it's Mom who serves as ship's captain, not Dad. And while the series centers on the exploits of Miles, a rough-and-tumble young adventurer, it's his sister, Loretta, who is the family tech whiz.
"The love and respect the Callistos have for each other is what makes their missions truly meaningful," Paladino says. "They always save the galaxy, but they also hug each other–a lot."
Miles From Tomorrowland premieres Friday, February 6, 9am/8c, Disney Channel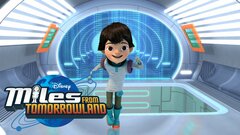 Powered by