Watch My Show: Miles From Tomorrowland Is Out of the World for Kids
Disney Junior has already given a second season to Miles from Tomorrowland, the year's No. 1 new preschool show among kids 2-5. The cartoon revolves around a young boy and his family as they embark on a variety of missions in outer space. Created by Sascha Paladino (Ni Hao, Kai-lan), the show incorporates science in its storylines, having consulted with NASA astronauts, Jet Propulsion Laboratory scientists and Google engineers to share their experiences as children. Paladino filled out our showrunner survey to explain why he thinks kids are over the moon for Miles.
I have time to watch one more show. Why should it be yours?
We have a robo-ostrich named Merc, who is Miles' pet and best friend. Name one other show that has a robo-ostrich! His name comes from the acronym M.E.R.C. (Mechanically Emotive Responsive Creature), but he prefers Merc.
Who should be watching?
Everyone! We've got adventure, comedy, action, endearing family moments, heart, even Shakespeare references…and did I mention the robo-ostrich? If you're a sci-fi fan, we have characters voiced by Mark Hamill, George Takei, Wil Wheaton, and Bill Nye the Science Guy. Plus Olivia Munn voices Miles' mom, Captain Phoebe Callisto. I'm telling you, we've got it all.
What happens if we don't watch?
You'll never find out what an Adorbix is even though your kids will.
What's the best thing someone has said about your show?
My five-year-old twin sons Gianluca and Cole told me they play Miles at school. Cole is Miles, Gianluca is Merc and their friend Eric is Leo Callisto, Miles' dad. The girls in their class join in and play Captain Callisto and Loretta, Miles' older sister. To know that there are kids out there who are "playing" as these characters is the highest compliment I could ask for.
What's the worst thing?
Someone on Twitter suggested that Miles' parents be arrested on child endangerment charges because of the perilous situations they let him get into.
Who was right?
My sons! It's ALWAYS a good idea to play Miles.
Tell us one thing about your cast.
Miles is played by Cullen McCarthy, a great young actor who has all the energy and excitement that Miles does. And he looks like Miles, too! His sister Loretta is played fantastically by Fiona Bishop, who's the same age as Loretta, and has an incredible singing voice that we hope to one day feature on the show. Merc is played by the incomparable Dee Bradley Baker, who can make any animal sound, even ones that don't exist! He also voices many of the other alien characters (including that Adorbix).
The amazing Tom Kenny plays Leo, Miles' dad, and he brings not only his extraordinary talent and experience, but also his warmth as a real-life-dad. He plays a lot of other characters in the show, and recently I realized that in one scene, he was playing four different characters that were all talking to each other, and sounded nothing alike. Now that's acting.
Olivia Munn plays Miles' mom, Captain Phoebe Callisto. It was really important to me that the captain of the ship was a mom. To me, moms are like the captains of their families – they keep things running smoothly. Olivia has an intelligence and strength that shines through in her voice and makes Phoebe convincing as both a captain and a mom.
Adrian Grenier, who plays Miles' uncle, Captain Joe, has been a friend of mine for 25 years. We first met in Little League and also went to high school together. Captain Joe's perpetual five o'clock shadow is based on Adrian's perpetual five o'clock shadow. I just don't know how he does it.
Okay, that's more than one thing, but I am just so excited about our cast.
What's an alternate title for your show?
Miles Away. That was actually the original title when I pitched the show to Disney. We ended up incorporating the idea of Miles and his family being residents of Tomorrowland and working for the Tomorrowland Transit Authority. I was thrilled to be able to connect to such a meaningful part of Disney history. When Walt Disney first dedicated the Tomorrowland area of Disneyland, he said: "Tomorrow offers new frontiers in science, adventure and ideals…the challenge of outer space and the hope for a peaceful and unified world." This fits perfectly with what we're trying to achieve with this show.
Give us an equation for your show.
Star Trek minus Captain Kirk plus The Jetsons minus Rosie the Robot plus Lost in Space minus Dr. Smith plus The Hitchhiker's Guide to the Galaxy with a splash of The Goonies, a touch of Indiana Jones and a twist of Star Wars.
Come up with a premise for a spin-off.
Miles does such a great job assisting his uncle, Captain Joe of the SpaceGuard police force, that he is asked to become the youngest-ever cop in the SpaceGuard. He and Merc are tasked with ridding the universe of intergalactic villains. But, Miles and Merc go rogue. The show is a gritty buddy-cop drama. For kids. The title: Miles from the Law.
What credit of yours would you prefer we forget?
When I was in high school, I made lots of short films with my friends. Whenever we could, we would make films as homework assignments rather than doing a report. For a biology class, Adrian and I made a film called The Brain: That Thing Inside Your Head. It involved us "opening" up our friend Damien's head so we could take out his brain (made of sculpted clay) and explore it. There was a lot of fake blood. And even though we did get an A for the film, I believe that the writing and cinematography were a little lacking. The acting was great, though!
What other series would you most like to be an executive producer on?
Lost. I am inspired by how well-drawn the characters were, and how the story continually unfolded and kept you wondering and thinking, from week to week. The way "Lost" connected with an audience is also inspiring. To create so much passion and engagement with viewers would be incredible.
Let's scare the network. Tell us something that didn't make it to air.
We wanted to do an episode called "The Six Million Dollar M.E.R.C.," where Merc gets a strange computer virus that causes him to speak – in a British accent. You know, it's probably for the best that we haven't made that one… yet.
Finish this sentence: "If you like________, you'll love our show."
Robo-ostriches!
Pick a show and start a fake feud.
Star Wars: Rebels! I would love to see Merc throw down with Chopper.
What other show would you like to do a crossover episode with?
House of Cards. Frank Underwood would join the Tomorrowland Alliance and try to take control from Admirals Watson and Crick, so he could further his own agenda and consolidate his power throughout the universe. Miles and Merc would have to race against time to stop Underwood. Miles would use his Laserang to trigger a holographic video camera that would tape Underwood's secret dealings with the Alliance, then broadcast it for all to see, exposing him for the lying cheater he really is. Miles and his family would be installed as the new heads of the Tomorrowland Alliance. Then, Miles would be so corrupted by all that power that he would overthrow his parents, send them to Mars, and start renaming every planet after himself.
How will your show change the face of TV as we know it?
We hope that Miles becomes the first kids' show where people create a real, working version of every single crazy high tech gadget we've invented, such as QuestComs, Blastboards, and the Bracelex. When we were researching the show, we spoke with rocket scientists who told us that they were inspired to do what they do by seeing sci-fi shows and movies as kids. The first flip phone was actually inspired by the design of a communicator device on Star Trek. If our show can inspire someone to create a working Bracelex, I will feel that our mission is complete.
Miles from Tomorrowland airs Fridays, Saturdays and Sundays at 7:30/6:30c on Disney Junior.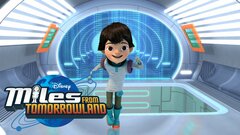 Powered by