How To Get Away With Murder Gets a Killer Guest Star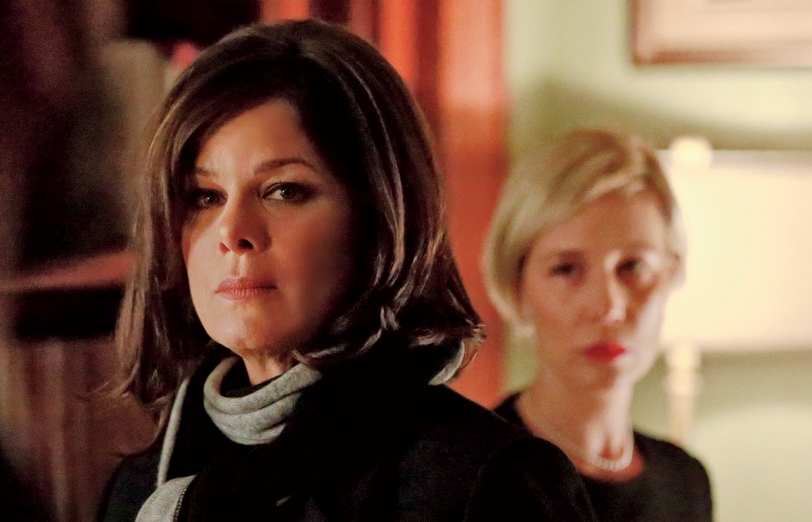 Not even Marcia Gay Harden knew exactly who she'd be playing when producers offered her a top-secret three-episode arc on ABC's hit thriller How to Get Away With Murder. "They called and said, 'We have a role we're writing for you. She's someone who goes toe-to-toe with Annalise [Viola Davis], but we can't tell you anything else about who she is, what she does, or why she's there,'" remembers the Oscar winner (for 2000's Pollock) with a laugh. Even creator Pete Nowalk admits that, with a vague pitch like that, "I never thought she would do it!" As viewers learned in last week's episode, Harden is playing Hannah, the sister of Annalise's sketchy husband, Sam (Tom Verica), whose murder (and its ensuing cover up) is the show's central storyline.
Harden, who had seen only a handful of episodes of the red-hot drama executive produced by Shonda Rhimes, binge-watched everything up through November's winter finale in order to better understand the morally murky world her pot-stirring character. Tonight, viewers will get a glimpse of just how complicated Hannah makes the lives of law professor Annalise and her students as they try to get away with the Sam's murder. "My character sees through manipulation but isn't above some manipulating of her own," Harden teases. "And she's not afraid to speak her mind or be confrontational."
In other words, get ready for some major fireworks between Murder's fearsome lead character and the equally formidable Hannah, who will shed some much-needed light on Annalise's dysfunctional past. "They have a very complicated dynamic," Nowalk says. "The first time you see them on screen together, it's really messy. I hope fans find it cool. It's definitely not something I've ever seen [on TV] before."
Harden—who will soon appear on the big screen as Christian Grey's adoptive mother in Fifty Shades of Grey–likens another fierce battle in the Feb. 12 episode to a chess game of sorts: "Hannah is basically throwing the pieces off the board and saying, 'Life
isn't a game. There's right and there's wrong.'"
How to Get Away With Murder, Thursdays, 10/9c, ABC