The Walking Dead Unveils Intense New Photos of Carl and Glenn for Season 5
Over the last five seasons, the zombie apocalypse has been less than kind to survivors Glenn (Steven Yeun) and Carl (Chandler Riggs). But if these exclusive photos are any indication, the two warriors are ready to face a fresh batch of challenges when The Walking Dead resumes with new episodes on Sunday, Feb. 8 at 9/8c on AMC.
The midseason premiere, "What Happened and What's Going On," picks up following the events at Grady Memorial Hospital, which resulted in the tragic death of Beth (Emily Kinney). Rick (Andrew Lincoln) and his group are also forced to continue without a clear direction after Eugene's (Josh McDermitt) promise of a cure in Washington, D.C., turned out to be a lie.
"They're all devastated," says showrunner Scott Gimple, who also penned the return episode. "On top of losing Beth, which is just nuclear for all of them, they are out in the world without safety. They will be emotionally and physically tested that much further."
Gimple also emphasizes the group dynamic is stronger in the season's final eight episodes. "We had to split them up during the first half, but in this half season, we will see the group together quite a bit," Gimple says. "There will be a lot of stories told at once with different combinations of people. It's a very different way to begin a season."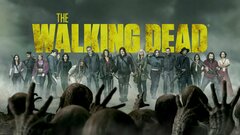 Powered by