What's Worth Watching: Soapy Spiritual Dilemmas on Jane the Virgin
Jane the Virgin, "Chapter Eleven" (Monday, Jan. 26, 9/8c, The CW)
Pray for Jane and her mom as they make difficult choices.
The concept of "seeing is believing" pertains most especially to this delightful series. Gina Rodriguez, fresh off her (and the CW's) first Golden Globes win, is endearing as Jane, the accidentally pregnant (by mistaken artificial insemination) virgin. Some may have been initially put off by the outlandish premise, but skeptics were soon won over by the show's abundant sweetness, warmth and unapologetic wackiness, the latter a nod to Jane's roots in telenovela soapiness.
Another of Jane's notable virtues is its authentic yet irreverent acknowledgement of the importance of religion in its characters' lives. In this week's episode, the nuns are so charmed by Jane's genuineness that they offer her a full-time teaching gig; she's conflicted, however, after her father Rogelio (Jaime Camil, who somehow makes preening vanity adorable) counters with a writing internship on his telenovela. Jane's mom Xo (Andrea Navedo) has her own spiritual dilemma as she strives to live up to the promise she made to God during the family's most recent ordeal. Whatever happens, there's no question that Jane is heaven-sent.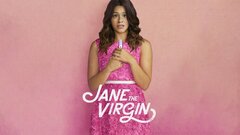 Powered by