'Girls' Star Allison Williams Shares Her Most Emotional Season 6 Moment on 'Inside the Actors Studio' (VIDEO)
HBO's Girls are all grown up and moving on. But not before they pay a visit to master interviewer James Lipton and his Emmy-winning Bravo series Inside the Actors Studio Thursday night.
Ahead of Girls' final season premiere this Sunday, the show's star and creator Lena Dunham, and her costars Jemima Kirke, Zosia Mamet and Allison Williams, sit down with Lipton to talk about their characters and their experiences on the oft-controversial, award-winning dramedy and share what Girls has meant to them both personally and professionally.
"At a certain point, girls become women," Dunham explains of ending her semi-autobiographical series, about the triumphs and travails of a group of New York 20-somethings, after six seasons. And though Girls made Dunham especially a household name, she admits saying goodbye to Hannah Horvath and her pals stings. In this clip, Lipton asks the women what it felt like to bring the show to a close.
"It was, like, the worst thing ever," says a somber Dunham.
"I remember the most emotional moment I had was the last time I made eye contact with Lena as Hannah," adds Williams. "They were like, 'We need another take, but we're not going to get it because Allison is going to break down.'"
The episode also features a special surprise message to Dunham from her fellow executive producer and writer Judd Apatow, Williams showing off her vocal talents, Kirke discussing the personal ramifications of becoming a full-time actress and Mamet sharing a family story that surprises even her costars.
See the Girls cast on Inside the Actors Studio, Feb. 9, 8/7c, Bravo
Girls Season 6 premieres Feb. 12, 10/9c, HBO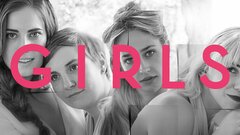 Girls
where to stream
Powered by