'Scandal': Cyrus Beene Did a Bad, Bad Thing; What's Next?
What exactly did Cyrus Beene (Jeff Perry) do?
To catch you up on ABC's thrilling political drama, Scandal, we know that President-elect Frankie Vargas (Ricardo Chavira) was murdered and all evidence gathered by Olivia Pope (Kerry Washington) and team is now pointing right at Fitz's (Tony Goldwyn) former Chief of Staff. But we've seen Cyrus worm his way out of many a situation but does he have anyone on his side?
RELATED: Kerry Washington and Bellamy Young Preview What's Coming Next (VIDEO)
"Right now [David] seems to be on the side of getting to the bottom of things," said Joshua Malina, who plays U.S. Attorney General David Rosen. Malina, Perry and co-stars Joe Morton (Eli Pope) and Cornelius Smith, Jr. (Marcus) attended last weekend's SCAD aTVfest where they talked to TV Insider about where things stand at the moment with their characters. "David hasn't been pulled too far into anybody's sort of more sinister intentions so I think right now he's just in the realm of trying to once again do what's right and look for the truth. But whether he'll retain that purity of intent well into the season, I don't know."
And while we saw Marcus finally take Mellie (Bellamy Young, left with Smith) in his arms for some lusty romance in last week's episode (anyone else cheering them on to be the next super couple?), Olivia manipulated things and made sure Marcus got the press secretary job under the new presidential regime. Are Marcus's feelings genuine for the former First Lady and presidential candidate? "I think Marcus really does care for Mellie," Smith said. "I think in last week's episode you saw him put his feelings out on the table. He put a lot on the table." Malina added, with a smile, "Including Mellie, yes."
And where or where has Papa Pope been? The villainous father to Olivia has been missing from action recently on the show but that doesn't mean he isn't busy working behind the scenes, right? "I think that things are shifting," Morton said. "Roles are shifting. Responsibilities are shifting. Power certainly is shifting. So we have to wait and see how he decides to deal with any of that."
Like many characters on the show, Papa Pope has done awful, heinous things, even to his daughter, Olivia. But is he redeemable or is there no return? "I don't think he's unredeemable at all," Morton said. "But I don't view him as a villain. I think he is a guy who has a very clear agenda about what he wants and how he wants to do it and who he's protecting and why he's protecting them. You may not like any of the ways he goes about things but the interesting thing is that it seems the audience keeps going back and forth in terms of how they feel about him, depending on what he's done last."
Watch this scene from last week where Olivia goes to Fitz with evidence of Cyrus's involvement in Vargas's murder:
Going back to Marcus—who has thus far been pretty noble in his work with Pope and Associates&mdashwill he see him get corrupted under Cyrus's administration? "I think we're going to see whether or not he is," Smith said. "You'll see individuals throughout have a chance to have power. I think power or the access to power is very tempting and we see what people do for that opportunity. I think we'll see what Marcus will do when he's finally offered power, where he'll kind of come down on that."
But what about the future for Cyrus? Having seen this week's episode, you'll see backstory in how everything played out for Mr. Beane to become president and an acting tour de force by Perry that should keep Scandal fans right where they like to be – wanting more.
Scandal, Thursdays, 9/8c, ABC.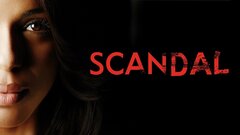 Scandal
where to stream
Powered by