Netflix Releases Official Trailer for 'Marvel's Iron Fist' (VIDEO)
Netflix knocked us out Tuesday morning with the release of the official trailer for Marvel's Iron Fist, the fourth in the streaming service's franchise of series that follow the adventures of more realistic, "street-level" Marvel Comics characters. Iron Fist follows Daredevil, Jessica Jones and Luke Cage, and the four heroes will eventually team in the upcoming Netflix series Marvel's The Defenders ("The Final Defender Arrives," hypes the trailer).
See Also
All four Defenders and Sigourney Weaver crashed Marvel's Iron Fist panel at New York Comic Con.
Iron Fist follows billionaire Danny Rand (Finn Jones), who returns to New York City after being missing for years, trying to reconnect with his past and his legacy. In the trailer, we see him rejoining the company that his father helped run, only to find that criminal elements have infiltrated it, along with the city itself. Rand uses his martial arts abilities—and the power of the fiery Iron Fist, which we see little glimpses of in the trailer— to help fight this corruption of his company and his city.
The trailer shows that the 13-episode Iron Fist has a similar gritty and realistic look, and perhaps level of violence, as the other Netflix Marvel series, clearly showing they are all in the same universe, and again giving comic-book fans who don't necessarily always need their heroes to be in capes and tights some nice alternative and mature viewing.
Marvel's Iron Fist, Available March 17, 12:01am PT, Netflix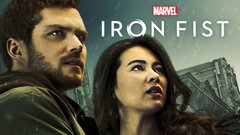 Powered by