Einstein Plays Lady Gaga Hit in 'Genius' Super Bowl Ad
If you've ever wanted to hear Albert Einstein perform Lady Gaga on a violin, National Geographic's 45-second Super Bowl spot for its new April series Genius will be the closest you're likely to get, and it's a lot of fun.
Nat Geo's eye- and ear-popping ad will premiere immediately following Lady Gaga's highly anticipated halftime show during Super Bowl LI, and it's the network's first-ever standalone spot during the big game.
RELATED: 11 New Super Bowl 2017 Commercials You Can Watch Right Now (VIDEO)
When you see the ad, you'll know this placement right after Gaga is fortuitous. The spot, shot in Prague earlier this week, features Geoffrey Rush in Genius character as the elder Einstein. The brilliant scientist is in his study and picks up his violin (Rush learned the violin for this role), tapping into his well-known passion for playing Bach and Mozart. As the spot continues, Einstein starts playing a beautiful and frenzied sonata, and halfway through, viewers will recognize the piece as a unique version of Lady Gaga's hit "Bad Romance." The spot ends with an appropriately fun gesture for which Einstein was famed. Overall the ad, and seemingly the series, captures quite well how Einstein was not all serious science all the time—the guy also knew how to have fun and enjoy life.
Eric Silver of McCann New York, the company that conceived of the ad, said, "The timing of our placement immediately after Lady Gaga's halftime performance felt like serendipity, giving us the perfect platform to bring the adored physicist to life in a memorable way."
The ad also gives Nat Geo the chance to reveal the premiere date for Genius—April 25.
Genius comes from executive producers Brian Grazer and Ron Howard (Howard makes his primetime television drama directorial debut with the series premiere episode). Along with Rush, the series stars Emily Watson as Albert's second wife, Elsa, and Johnny Flynn as a younger Albert. The first season of the anthology series is based on Walter Isaacson's acclaimed book, Einstein: His Life and Universe.
Genius, April 25, National Geographic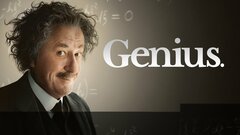 Genius
where to stream
Powered by