What's On: The rebooted '24: Legacy' gets a Super Bowl Sunday launch. Also: Netflix's 'Santa Clarita Diet' and 'Crazy Ex-Girlfriend' season finale
24: Legacy (Sunday, approximately 10:30/9:30c, following Super Bowl LI, Fox): How to follow the spectacle of a Super Bowl game, with a Lady Gaga halftime show and hours of mega-hyped advertising? Fox is reviving its greatest action franchise, and the question haunting 24: Legacy isn't so much whether the new hero—Corey Hawkins as ex-Army Ranger Eric Carter—can beat the terrorists, but whether 24 can escape the shadow of Jack Bauer. (Kiefer Sutherland being busy saving the world over on ABC's Designated Survivor, which returns March 8.) It gets off to a strong start, as Carter learns many of his brothers in arms, who took out an Osama bin Laden-type terrorist and are now living in witness protection, have been exposed and executed. Time to go on the run, with the help of CTU and its former leader, Rebecca Ingram (Homeland's Miranda Otto, now on the side of the saints), whose husband (Jimmy Smits) is running for president. As always, that ticking digital clock signals a relentless rush of action. Don't overthink it and go along on the hectic, suspenseful ride.
Santa Clarita Diet (Friday, Netflix): Bet you can't eat—make that watch—just one. This merrily macabre dark comedy, as wacky as it is icky, stars Drew Barrymore and Timothy Olyphant as Sheila and Joel, married realtors in suburban California whose sunny disposition is clouded when Sheila suddenly develops a taste for her neighbors. Think of it as The Laughing Dead, and binge away.
Crazy Ex-Girlfriend (Friday, 9/8c, The CW): You're invited to a wedding in the season finale of this improbable musical-comedy survivor, already renewed for a third season. Here comes the bride, Rebecca Bunch (Rachel Bloom): so girly, so psycho, dealing with daddy issues and abandonment issues on the precipice of holy matrimony with Josh (Vincent Rodriguez III). Hold off on throwing the rice, through. A lot of crazy's about to go down.
Inside Weekend TV: From the makers of the political docu-series The Circus comes Showtime's Trumped: Inside the Greatest Political Upset of All Time (Friday, 9/8c), which borrows from the series' fly-on-the-wall footage, some never seen, to chart the new president's unprecedented campaign and, to many, unexpected electoral win. … Kristen Stewart pays her first visit as guest host to NBC's Saturday Night Live (Saturday, 11:30/10:30c). Might she actually smile? … If football's not your thing, PBS's Victoria (Sunday, 9/8c, check local listings at pbs.org) prepares the young queen (Jenna Coleman) for marriage to her Prince Albert (Tom Hughes), although he chafes at conditions that wound his male pride (a storyline that played out pretty much the same in the superior The Crown).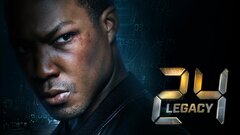 Powered by