Selena Gomez Reveals '13 Reasons Why' Teaser Trailer (VIDEO)
Selena Gomez took to Instagram on Wednesday to post the first teaser trailer for the upcoming Netflix mystery drama 13 Reasons Why, which bows on the streaming service March 31.
"A peek at a passion project I've been working on with @Netflix," Gomez wrote in her post.
13 Reasons Why is adapted from the best-selling YA books by Jay Asher. The story follows teenager Clay (Dylan Minnette), who discovers a mysterious box containing cassette tapes recorded by a classmate, Hannah (Katherine Langford), who committed suicide two weeks earlier. On tape, Hannah explains that there are 13 reasons why she decided to end her life, and Clay might be one of them.
Pop star and actress Gomez is an executive producer on the 13-episode series, but won't appear onscreen.
13 Reasons Why, March 31, Netflix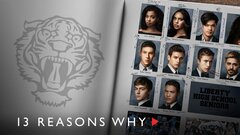 Powered by