'Scorpion': Lea Thompson's Veronica Asks Paige to Assist with One Last Con (VIDEO)
Scorpion's Paige (Katharine McPhee) has had a bumpy reunion with her mother Veronica (Lea Thompson) this season, but it could be coming to an end.
In Monday's episode of the CBS drama, "The Hole Truth," Veronica assures her daughter she could be out the door…if Paige helps her with one last thing. "One last con," Veronica says in the exclusive scene below. "For Mommy."
RELATED: Scorpion: Robert Patrick Previews Cabe's Fight to Survive
How will Paige react to the proposition? Check out the clip.
Scorpion, Mondays, 10/9c, CBS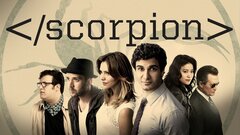 Powered by