'Animals up Close With Bertie Gregory' Trailer Shows Filmmaker in the Wild (VIDEO)
Thirty-year-old British wildlife filmmaker and National Geographic explorer Bertie Gregory is set to debut Animals up Close With Bertie Gregory, which features the titular filmmaker during his explorations to witness astonishing wildlife moments around the world, and TV Insider has an exclusive first look at the trailer.
The clip of the upcoming series shows the BAFTA award-winner in Antarctica, Africa, South America, and Asia tracking down extraordinary animals to capture their daily lives like never before. In a scuba suit in Antarctica, Gregory quips, "There's got to be an easier way to earn a living," as he battles harsh weather conditions and avoids apex predators. Check out the footage above.
Each of the six episodes is slated to bring audiences close to nature and highlight animals' challenges and the resilience they need to survive. Standout moments include a male sea lion defending pups from a huge Galapagos shark and, by using a military-grade thermal imaging camera in Patagonia, Bertie and his team filmed a guardian shepherd dog defending his flock of sheep from a hunting puma.
The series was filmed over 219 Days in Antarctica (Drake Passage), the remote Galapagos Islands, Botswana, Patagonia (southern Chile), Indonesia, and the Central African Republic.
Animals up Close With Bertie Gregory includes exploring Patagonia to reunite with a female Puma; crossing the infamous Drake Passage in Antarctica to check in on some killer whales; traveling to Botswana to look into the African wild dog; going to the remote islands of the Galapagos to find and film three rare animal behaviors seen nowhere else on the Earth; an elephant stakeout in the Central African Republic; and diving in Indonesia to catch a glimpse of a devil ray.
Throughout the series, there are emotional highs and lows as Gregory comes face-to-face with the shocking truths about the impact of humanity on the wildlife he is so passionate about. Bertie and his team must brave subzero seas, climb snow-capped mountains, and sleep suspended 120 feet in the air to reveal the challenges animals endure, their fierce rivalries, and the threats they face on our changing planet.
Animals up Close With Bertie Gregory, Series Premiere, September 13, Disney+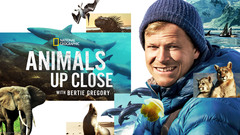 Powered by