'Star Trek: Strange New Worlds': How 'Lower Decks' Crossed Over (RECAP)
[Warning: The below contains MAJOR spoilers for Star Trek: Strange New Worlds Season 2 Episode 7, "Those Old Scientists."]
Surprise! After a screening at San Diego Comic-Con, Paramount+ dropped the Star Trek: Strange New Worlds crossover with Lower Decks early, and that's especially good news because it means you have more time to watch (and rewatch). Not only does it live up to the hype (the character interactions! the Spoimler bromance! the fun! the animation!), but it also features a few moments that members of the Enterprise definitely need.
So how do Mariner (Tawny Newsome) and Boimler (Jack Quaid) end up traveling back in time, going from animated to live action, and boarding the Enterprise? A time portal (after both rave about Pike, Spock, Uhura, and Una), which history, after Pike (Anson Mount) makes a deal with an Orion Captain, says Orion scientists discovered. However, that only comes after a few mishaps, an explosion, a failure on Boimler's part not to share knowledge of the future, and much more. But that deal ultimately allows Boimler and Mariner (who arrives later to save the other ensign) to return home.
While they're in the time of Strange New Worlds, however, they do help out its crew. "You guys look very realistic," Boimler remarks before passing out upon arriving through the portal and seeing Spock (Ethan Peck), Una (Rebecca Romijn), and La'an (Christina Chong). Once he realizes he really did travel back in time, he's excited about everything — and Una especially takes notice of his odd behavior. (Later, Mariner remarks that he has a poster of her pinned up in his bunk; it's not until they're about to leave that Una learns it's a recruitment poster, and she's a major part of why Boimler joined Starfleet. She's very touched.) La'an, after her own experience with time travel, not only goes over the usual protocols with Boimler ("Worf's honor," he swears) but adds her own as well: Don't make any attachments.
Boimler, as a huge fan of Spock, is concerned when the half-Vulcan laughs and smiles, and at first, he worries he did something to change the timeline. But upon talking to Chapel (Jess Bush), he realizes she's the reason. And as Spock notes later, he must stay true to the path he's chosen because if Boimler sways him, his future will have been altered. (One of the best parts? Mariner admits she was not prepared for how hot young Spock is: "The body, the face, the ears, what?")
Meanwhile, Uhura (Celia Rose Gooding) has been very work-focused lately, but it turns out Mariner, who has always admired her and lets her know it, is just the one to change that, forcing her to take a break (even citing Starfleet labor codes) and ultimately helping her find the answers she needed.
When Boimler reveals that Pike's birthday is coming up, the crew plans a party. Pike is, at first, glad when Boimler recognizes him (and his "really great hair") — though he has to take a moment when he learns the ensign dressed up as him for Halloween — because it feels like his future might not be so bad. However, he's not happy about word getting out about his birthday. He reveals to Boimler and Mariner that he knows his future; he'll be turning one year older than his dad was when he died, and while they didn't get along, he'd give up years for one more fight. In fact, his plan for his birthday is to go fishing and talk to his dad since they never resolved things. But Boimler points out that when he's not around, there will be people on the Enterprise who wish they'd had another day to talk to him.
Soon after that, they're able to send Boimler and Mariner back to the future — using a piece of Archer's Enterprise! — and Spock sees them off with a Vulcan salute and "live long and prosper." (Boimler fumbles his response.) Then, after seeing the Lower Decks crew once again back and animated (and declaring Ransom calls the past the TOS era for "Those Old Scientists"), the episode ends with Pike's birthday party. However, the Strange New Worlds crew is animated, feeling two-dimensional (with huge eyes) … and wondering what exactly is in the Orion hurricanes they're drinking.
And with that, one of the most entertaining crossovers ever ends on a high note. Our only request: Can Boimler and Mariner come back through that (or any) portal for another adventure soon?
Star Trek: Strange New Worlds, Thursdays, Paramount+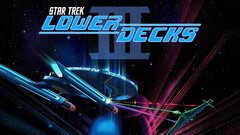 Powered by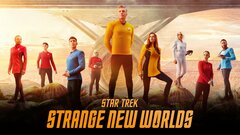 Powered by