'Based on a True Story': Kaley Cuoco & Tom Bateman Preview Brilliance of Twisty Peacock Series
True crime meets comedy in Peacock's new dark and twisty series Based on a True Story, which, despite the title, isn't in fact based on a true story.
Starring Kaley Cuoco, Chris Messina, Tom Bateman, and others, the show sees the lives of a realtor, plumber, and former tennis star collide in unexpected ways. Their collision also exposes America's obsession with true crime and murder, which sends them on one hell of an adventure.
In the series, Cuoco plays Ava, the wife to Messina's Nathan, and "they are kind of struggling in their marriage," she says. "Things are stale, they're losing money. He lost his job, she's not doing well. They have a baby on the way."
Their outlook turns around when they meet Bateman's Matt, a plumber working in Los Angeles. He's "a kind of everyman guy," Bateman says of his character. "He feels very invisible but has quite a lot of secrets that he can't reveal but sort of desperately wants to."
Could Ava and Nathan be the individuals who get him to open up? When Ava believes a serial killer has entered their neighborhood, she'll seek out answers. "Ava is obsessed with true crime podcasts," Cuoco notes. "She listens to all these things and she loves CrimeCon, and so she convinces Nathan to start a podcast about this serial killer."
The big catch though? Ava wants Nathan to blackmail this mystery killer to be a part of the process, "which the more I talk about it sounds absolutely insane," Cuoco says, "but it was also kind of brilliant."
Can Matt help uncover the mystery with them? Only time will tell, but Bateman says the "tension really excited me as an actor." Don't miss the deliciously bingeable series and mystery.
Based on a True Story, Series Premiere, Thursday, June 8, Peacock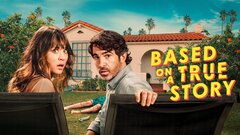 Powered by