10 Best 'It's Always Sunny in Philadelphia' Episodes So Far, According to Fans
A year and a half after becoming the longest-running live-action sitcom in American television history, It's Always Sunny in Philadelphia is set to extend its lead.
The FXX comedy is returning for a 16th season on Wednesday, June 7, with ripped-from-the-headlines plot points tackling everything from U.S.-Russia relations to gender equality to gun control, as the network says in a press release.
"This year alone, Mac [Rob McElhenney] battles with allergies and long-distance dating, Charlie [Charlie Day] takes on his long-forgotten sisters, Dee [Kaitlin Olson] fights for rent control and women's athletics, Frank [Danny DeVito] wrestles for his gun, and Dennis [Glenn Howerton] struggles to improve his mental health," FXX added. "At the end of the day, they're navigating 2023 with 16 years of baggage as a few figures from their past rear their heads."
And if Sunny fans are extra lucky, the Season 16 episodes will rank among the series' best. According to IMDb voters, these are the top 10 episodes of the show so far…
10. Season 7, Episode 2: "The Gang Goes to the Jersey Shore"
Dee and Dennis get the gang to go to the Jersey Shore together, but between a near-scalping and a runaway "rum ham," the trip goes horribly awry. "One of my faves," an IMDb reviewer writes. "This one's brilliant [because] the chaotic nature of the characters seems tame compared to all the things surrounding them."
9. Season 6, Episode 13: "A Very Sunny Christmas"
The night is anything but silent in this yuletide-themed episode, as Frank goes nude at a holiday party and Charlie gets into a bloody altercation with Santa Claus. On IMDb, one fan calls the episode "the funniest and most twisted Christmas episode" with "many laugh-out-loud moments."
8. Season 3, Episode 9: "Sweet Dee's Dating a R—d Person"
In an episode titled with a derogatory term the cast members have since redacted, Dee dates an amateur rapper (Kyle Davis) while Charlie, Frank, and Mac try to start a band. "Seeing Danny DeVito trying not to break while Charlie sings 'Nightman' is worth the price of admission, whether that admission price be DVD, cable, electric bill, internet bill, etc.," a fan raves.
7. Season 2, Episode 4: "Mac Bangs Dennis' Mom"
As this episode's titular tryst takes place — with Anne Archer guest-starring as Barbara Reynolds — Dennis taunts Charlie by threatening to sleep with the waitress (Mary Elizabeth Ellis) with whom Charlie is obsessed. A reviewer calls this installment "comedy perfection" with "the best of crude humor, plot twists, and raw character interaction."
6. Season 5, Episode 10: "The D.E.N.N.I.S. System"
Dennis presents his supposedly foolproof system of getting dates: demonstrate value, engage physically, nurture dependence, neglect emotionally, inspire hope, and separate entirely. On IMDb, a fan says they love this episode since the "selfish and manipulative" characters "get what they deserve."
5. Season 12, Episode 6: "Hero or Hate Crime?"
A disagreement over a scratch-off lottery ticket sends the gang to professional arbitration, which ends with Mac coming out as gay. "Hilarious episode that's topped off by a rocker of an ending that actually buttons down the shenanigans for, like, 15 solid seconds to let a character develop," a viewer observes. "I was honestly dumbfounded."
4. Season 11, Episode 5: "Mac & Dennis Move to the Suburbs"
Mac and Dennis leave Philadelphia for a less expensive life outside the city proper, only to discover that it's not always sunny in the suburbs. An IMDb user says this episode takes the city-versus-suburbs culture clash "to a surreally funny level, and it just totally worked because everything at the base of the idea was spot on."
3. Season 12, Episode 2: "The Gang Goes to a Water Park"
The gang's day at a water park goes spirals out of control as Frank and Charlie embark on an ill-fated quest ride every ride — one that ends in gory fashion at an under-construction slide — while Mac and Dee get stuck in a tube. "I love the show, but this episode made me laugh so hard it hurt my stomach," one fan writes on IMDb.
2. Season 4, Episode 3: "The Nightman Cometh"
Charlie turns his song "Nightmare" into a rock opera and recruits his Paddy's pals, but the production goes horrifically off-script on opening night. "The acting and the writing hit full stride as the gang performs the musical," a fan says. "It's sheer, raw, unapologetic brilliance."
1. Season 10, Episode 4: "Charlie Work"
Charlie puts in the titular elbow-grease to prepare for a health inspector visit while the rest of the gang focus on a hare-brained scheme involving steak, chickens, and airline miles. "Charlie Day, my man, what a performance, absolutely mind-blowing," writes an IMDb user. "Writers, directors, actors, kudos to you."
It's Always Sunny in Philadelphia, Season 16 Premiere, Wednesday, June 7, 10/9c, FXX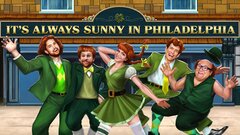 Powered by