Hallmark Reveals 2023 Christmas in July Lineup, Including 2 New Movies
Hallmark Channel has announced the return of its Christmas in July programming, which includes two all-new original movies revolving around the jolly holiday. The network is also looking to bring viewers holiday cheer amongst the heat with daily holiday movie marathons on the Hallmark Channel and Hallmark Movies & Mysteries.
A Royal Christmas Crush starring Katie Cassidy and Stephen Huszar is slated to arrive July 8. Meanwhile, The Christmas Reboot starring Vanessa Lengies and Corey Sevier is slated to air July 15.
Hallmark Movies & Mysteries kick off the festivities in June with Merry Movie Week, beginning Friday, June 23, through Monday, June 26. However, you can catch a mini-marathon of Christmas content on Monday, June 26, from 11 pm through June 30 at 7 pm.
Then beginning on July 1 on the Hallmark Channel, there will be a back-to-back airing of holiday movies every day that month from 10 am to 10 pm. Fan favorite movies will begin to air July 1 through July 4, and viewers will be able to vote for their favorite movie through weekly polls every Monday on the Hallmark Movie Checklist app. During the month, A Royal Christmas Crush and The Christmas Reboot will air at 8 pm on the 8th and 15th, respectively.
Check out the synopsis of each movie below.
A Royal Christmas Crush – Saturday, July 8
Stars: Katie Cassidy, Stephen Huszar
Ava (Cassidy) accepts the opportunity of a lifetime to work at the Royal Ice Hotel, which leads her to a surprise whirlwind romance with the most important guest of all, the Royal Prince (Huszar) himself.
The Christmas Reboot – Saturday, July 15
Stars: Vanessa Lengies, Corey Sevier
A Christmas wish gives Renee (Lengies) the successful life she'd always dreamed of. This new reality is perfect, except for one thing…she is no longer married to her husband Aaron (Sevier). Now, Renee must race against the clock to win him back before Christmas Eve.
A Royal Christmas Crush, Movie Premiere, Saturday, July 8, 8/7c, Hallmark
The Christmas Reboot, Movie Premiere, Saturday, July 15, 8/7c, Hallmark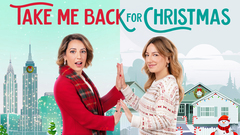 Powered by