See 'Wheel of Fortune' Contestant React After Huge Win on 'Star Wars' Week
The force was strong with Wheel of Fortune contestant Dr. Jeff Powell on Monday (May 29) night, as the dentist from Sherwood, Arkansas, walked away with the $100,000 bonus prize.
Powell kicked off the game show's Star Wars-themed week in a big way, quickly solving the final puzzle and bagging the huge cash prize that came with it. Even host Pat Sajak seemed surprised, as he was heard saying, "How about that?" off-screen as Powell and his wife celebrated on stage.
Having already amassed $23,646 during regular play, Powell was confident entering the bonus round. Under the "Phrase" category, Powell was faced with a letterboard that read "STAY A _ L _ OAT," which he immediately figured out as "Stay Afloat."
"Oh my gosh!" Powell said as Sajak opened the prize envelope and revealed the $100,000. Powell's wife then ran onto the stage to give her husband a hug and kiss as the confetti fell from above.
Cue the confetti!
Wait for it …

(Really, please wait for it.) pic.twitter.com/04ADby0gJG

— Wheel of Fortune (@WheelofFortune) May 30, 2023
Earlier in the show, Powell described himself as the "Star Wars dentist," revealing he has a Star Wars room at his office. "And every Thursday, my entire staff is encouraged to wear Star Wars shirts that say, 'May The Floss Be With You.'"
"Jeff, you should be ashamed," Sajak quipped.
Speaking to ABC7 last week, Powell, who wore a Star Wars-themed shirt for his TV appearance and owns his own Storm Trooper costume, opened up about his time on the long-running game show, describing it as a "surreal experience."
"You watch it every night and then to walk in there and there's everything, there's the letter board. There's the wheel. It's so cool," he explained.
"It was so exciting," he continued. "You're under the lights and everything goes really fast and then it's over. I don't think I did anything to embarrass myself or my community, but I guess we'll see Monday."
After seeing the episode, it's safe to say Powell has nothing to be embarrassed about. But after his massive winnings, maybe his staff will encourage him to buy them some new shirts for Star Wars Thursdays.
Check out some fan reaction to Powell's big win below.
One day…I will get my shot! Congratulations here though!!!

— Todd Harig (@harigtweets) May 30, 2023
Congrats to Jeff on the win at the $100,000 prize tonight on #WheelOfFortune!

— Felix (MKDS) Mendez (@MKDSmaster91) May 30, 2023
Arkansas proud 🎉

— Donna Satterwhite (@Donnajoe1234) May 30, 2023
Congratulations Jeff on the $100,000 win. I hop Jeff will now start giving out free toothbrush's & dental floss to his patients.if he isn't already.🦷🦷🪥🪥🎉🎊🎉🎊💰💰💰💰💰💰💰💰💰💰

— Jon501 (@BigJon0501) May 30, 2023
Wheel of Fortune, Weeknights, Check your local listings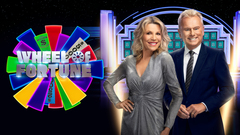 Powered by