Brian Cox Says Logan Roy's 'Succession' Exit Was 'Too Early'
Brian Cox has shared his thoughts on the decision to kill off his Succession character Logan Roy in the third episode of the currently airing fourth season, admitting that he thinks it came "too early."
"[Succession creator Jesse Armstrong] decided to make Logan die, I think ultimately too early," Cox said in an interview with Amol Rajan Interviews (per Deadline), which is set to air on BBC2 in the U.K. on Thursday (May 25) night. "I mean, he'd made him die in the third episode… It was an odd feeling."
The Emmy-winning actor said he initially looked at it "wrongly, as a form of rejection," but that he "was fine with it ultimately" even if he did "feel a bit rejected."
"I felt a little bit, 'Oh, all the work I've done. And finally I'm going to end up as a New Yorker on a carpet of a plane'," he added.
As for whether he considered asking Armstrong to change the scene or move Logan's death until later in the season, Cox said he didn't. "There's no point going down that road," he stated, "especially with somebody like Jesse, because he's already made a plan."
Despite his mixed feelings about his character's early death, Cox had high praise for the scene itself. "It was a great scene," he said. "That's why I didn't watch it, because I have no interest in watching. My own death will come soon enough. But I just thought, 'Wow', you know, [Armstrong] did it brilliantly. It was a brilliant scene, the whole act."
Cox also brought up a theory that perhaps Logan is still alive and could make a shocking return in the upcoming series finale.
"If you think about it, from Logan's point of view, he has to find out, how are his children going to behave when he dies, what will then happen?" he explained. "And the only way to do that is to fake his death, and actually, at some distant point, he's observing the chaos that is following."
But before fans get too excited about a potential return from beyond the grave, Cox reiterated this was just a "supposition" and not a hint towards Sunday's finale.
Succession, Sundays, 9/8c, HBO and Max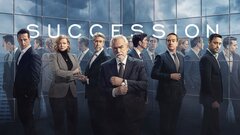 Powered by