'American Born Chinese' Star Michelle Yeoh on Pressures of Playing Goddess of Mercy (VIDEO)
American Born Chinese has arrived on Disney+ and with it comes the introduction of Best Actress Oscar-winner Michelle Yeoh's portrayal of Guanyin, the Goddess of Mercy.
Adapted from Gene Luen Yang's graphic novel, Yeoh's character is derived from traditional Chinese stories and mythology, but there's a twist on her when it comes to this action-packed series. Centering on the coming-of-age story of Jin (Ben Wang), American Born Chinese sees his life disrupted when conflict among the Gods is brought to Earth.
"The Goddess of Mercy is very revered and is very important to many millions of people around the world because of who she is and what she represents," Yeoh tells TV Insider, above. The actress adds for those "who might not know the mythological or the cultural stories that the Chinese folks [do]… we really truly believe American Born Chinese was a great introduction if you don't know anything about it."
Embodying Guanyin "was a big, big responsibility because you don't wanna get it wrong," Yeoh says, adding that in order to capture the accurate tone, you have to play the part "with such restraint and respect." Still, her portrayal gives it, "a very modern-day feel of what if when she comes to Earth, what would she be like?"
It would seem she likes putting IKEA furniture together and visiting buffets, something that Yeoh enjoyed embracing throughout her performance. Meanwhile, expect some fun action from the actress who also reunites with her Everything Everywhere All at Once costars in this series.
"At that point, Everything Everywhere All at Once was just coming out," Yeoh notes, looking back on filming American Born Chinese. While she points out that she and her costars such as Ke Huy Quan and Stephanie Hsu would regularly see each other before signing on, "working on the same project gave us more reasons to be seeing each other, even though we didn't have that many scenes together."
See the full conversation, above, and don't miss Yeoh as Guanyin, the Goddess of Mercy in American Born Chinese on Disney+.
American Born Chinese, Streaming now, Disney+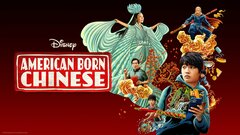 Powered by