Jeremy Sisto Dishes on His Costars as 'FBI' Hits Episode 100 (VIDEO)
What better way to celebrate FBI reaching the milestone of 100 episodes (also its Season 5 finale on May 23) than with some love from the cast, specifically Jeremy Sisto talking about his costars?
When Sisto stopped by TV Insider to discuss this season's three-show crossover, we also took the opportunity to give him the chance to talk about those he works with, both on FBI — Missy Peregrym, Zeeko Zaki, Alana De La Garza, John Boyd, and Katherine Renee Kane — and as part of the aforementioned major event, which saw him and recurring guest star Shantel VanSanten head to Italy to work with the International cast before the action returned to New York for Most Wanted.
The hardest part of this "Costar Lightning Round" for Sisto? "I gotta go on. I can't just do one little comment. I'm not good at that."
While for Sisto, everyone's like family, De La Garza is "even more like family than the other ones. She's the most like family because we've been on this ride together a long time," he explained. They were on Law & Order together during its original run, before it returned for its 21st season on NBC in 2022. Factoring in crossovers across Dick Wolf's shows, FBI and Law & Order are part of the same universe.
"That's the great thing about these shows, Dick's shows. They cast really interesting people and then let the writing evolve around him," Sisto shared while raving about his castmates. "Dick and his team have such an eye for talent."
With the crossover action of the franchise, Sisto does get to work with actors from the other shows, such as Luke Kleintank from International and Dylan McDermott from Most Wanted. He revealed that he and McDermott played softball against each other. Watch the full video above to find out who won (and who should have) plus to see what Sisto had to say about his costars.
FBI, Episode 100 & Season 5 Finale, Tuesday, May 23, 8/7c, CBS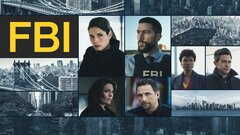 FBI
where to stream