Jeremy Sisto Talks Going to Rome & Being in the Line of Fire in 'FBI' Crossover (VIDEO)
Jeremy Sisto left behind the JOC — and New York — for the second global crossover in the FBI franchise. The April 4 event sees the FBI, International, and Most Wanted teams join forces to solve a case that starts overseas before returning stateside.
"Jubal usually goes out of the JOC when some big personal issue is going on his family's health or his battle with his sobriety. But this is not that," Sisto said when he recently stopped by TV Insider to preview the action-packed event. Rather, an abduction that the Fly Team is investigating is connected to a bomb they're looking into at 26 Fed, and so Jubal and Nina (Shantel VanSanten) head to Rome.
The teams get along great. "They feel like family pretty quickly. They're like cousins," Sisto shared. And yes, he and VanSanten did fly over to Rome to film those scenes.
But what's not quite as easy is some of the job. "Maybe to a fault, [Jubal is] so used to having this extended team around him that just feels like a real connected part of him," Sisto explained of his character's usual set-up. "To some degree, it's somebody who's accustomed to always getting the answer they need becomes a little spoiled." That is not the case here. "There's just some disagreements about how to handle the local agencies and that becomes a contentious debate."
Also different: the work for Jubal. Rather than running the JOC, at least while he's overseas, "we're out there with guns and running around and chasing bad guys and really in the line of fire, which Jubal's not accustomed to anymore," Sisto shared. And yes, we'll get to see how he and Scott (Luke Kleintank) work together, especially given that Jubal had said, back in the crossover in September 2021 that included the International series premiere, "if I had to go to war and could only pick two agents to go shoulder to shoulder with, he'd be one of them."
Watch the full video interview above for more from Sisto about the big three-show event, filming in Italy, and the possibility of a crossover with FBI and Law & Order (on which he played Detective Cyrus Lupo).
FBI–FBI: International–FBI: Most Wanted, Global Crossover, Tuesday, April 4, 8/7c, CBS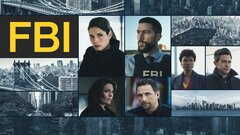 FBI
where to stream