'Jeopardy!' Boss Speaks Out on Ken vs. Mayim Debate, Plus Who Gets Better Ratings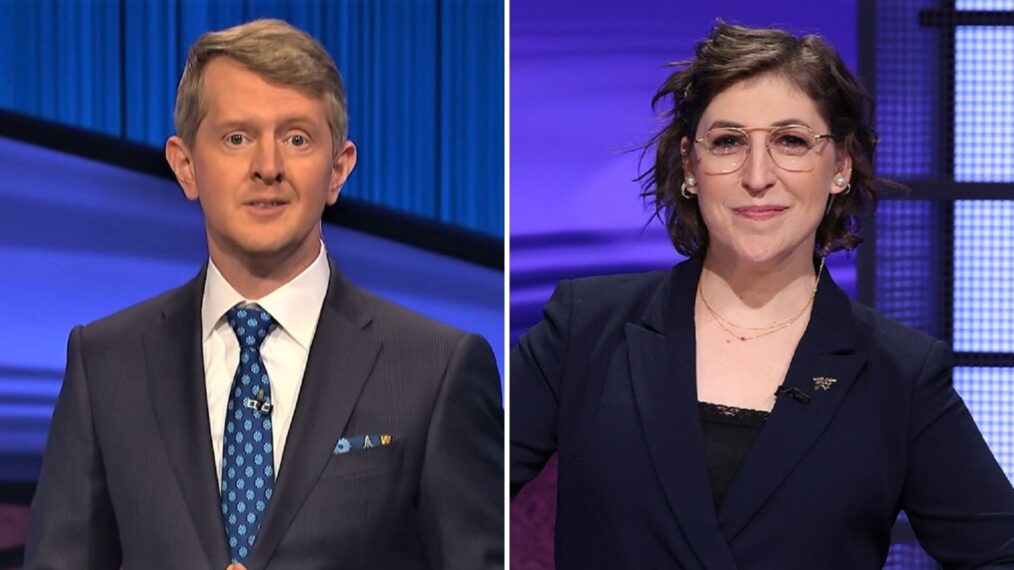 Jeopardy! showrunner Michael Davies has made plenty of changes since taking over the role from Mike Richards in 2021, including new visuals, new tournaments, new rules, and, of course, two new hosts.
While Davies himself didn't select Ken Jennings and Mayim Bialik as Jeopardy! hosts (that was decided before he came aboard), he has helped them settle into their roles, including choosing which specials and tournaments each should helm. It was initially reported that Bialik would be hosting all prime-time events, but the currently airing Masters tournament sees Jennings in the host role.
"When I joined Jeopardy!, there was already a deal that existed with Mayim to do all prime-time events," Davies told Vulture in a new interview. "At that point, it was just the Jeopardy! National College Championship. I don't think anybody had thought about any other prime-time events. Then Celebrity Jeopardy! happened, which became natural for Mayim to handle."
However, since taking over, Davies has introduced several new tournaments, including a Second Chance competition and the currently airing Masters, which sees six of Jeopardy's elite players facing off.
"I think Mayim would agree that Masters was a more natural Ken tournament in terms of where his true hosting expertise lies," Davies explained. "To me, it was pretty clear from the start that Ken was going to host."
Davies is aware that the fanbase has strong opinions on Bialik and Jennings and which host they prefer. The executive producer, who was responsible for bringing Who Wants To Be A Millionaire to the U.S., said he looks at all the data but overall doesn't see a huge difference in preference.
"We read data from everywhere," he stated. "In terms of the tiny percentage of our audience that do go on Reddit or Twitter, there are Ken fans and there are Mayim fans. There are some people who love Jeopardy! and will watch both. We also have various fans who post that they don't like either of them. That's just part of the data we look at."
But one of the biggest and most important things he looks at is the show's ratings. "When Ken is hosting and Mayim is hosting, there's zero difference. It's exactly the same and that's the broadest part of the audience," Davies said.
He went on to say that there was "an incredible fracture at the heart of Jeopardy" when he first arrived, noting the death of the show's longtime host Alex Trebek. And he understood there was a lot of rebuilding that needed doing.
"I stand by the decision to bring Ken in and have Ken be a second host along with Mayim. I back both of them," he added. "I go to the studio every day and try to make both of them better at hosting the show and make a better program environment around them. They have my full support.
Davies also noted how Jennings and Bialik are both new to the world of hosting, so it's a learning process.
"I do read everything, and look, the strongest thing we've got is the passion of our fans. I wish many of our fans were more patient in understanding that we're dealing with two hosts. Mayim is a very experienced actress. Ken is a very experienced Jeopardy! player. They're both at the beginning of their hosting careers."
Jeopardy!, Weekdays, check local listings