'Jeopardy!' Champ Ben Chan Shares Heartfelt Anecdote About How He Holds Buzzer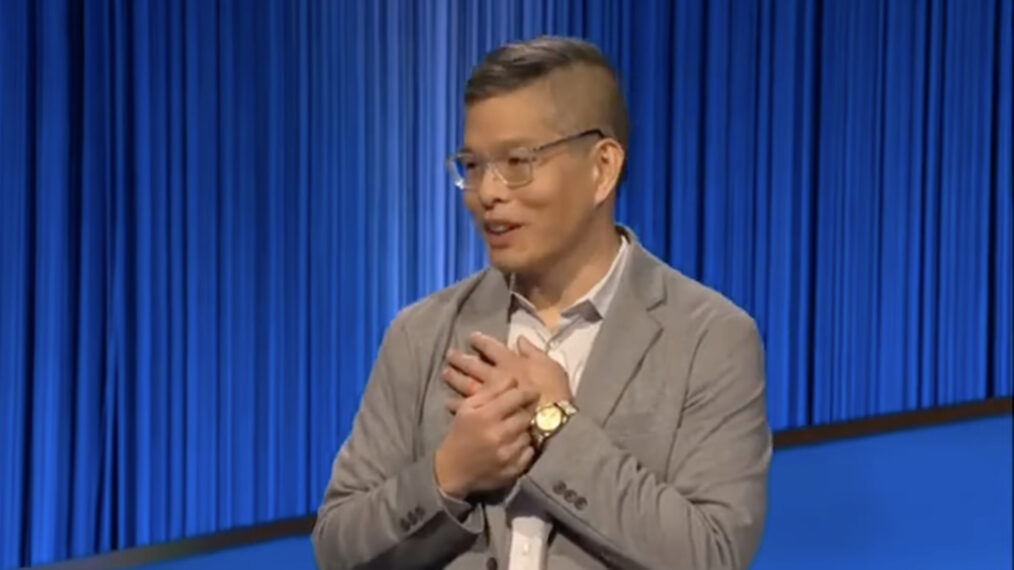 [Warning: The below contains MAJOR spoilers for the May 18 episode of Jeopardy!]
Here's another reason to be a fan of current Jeopardy! champion Ben Chan: what the watch you can see on display when he rings in to answer means to him.
During the interviews for his seventh game — which the philosophy professor won with $31,000 (bringing his total to $213,000) to his competitors' $4601 (John Groves, a legislative technical specialist) and $4401 (Kristen Beck, a physician) — Ben shared a fun fact about a treasured possession he had on him, his watch. "I inherited it from my father. I actually didn't know that much about it, but about a month after I inherited it, I was watching Antiques Roadshow, which I've watched for 20 years, and for the first time ever, an item that I own showed up and was appraised," he said. Comedian Ronnie Chieng had also gotten the same watch from his father. (You can watch that in part below.) "It was really nice to see," Ben said.
After someone shared the video from Antiques Roadshow on Reddit, Ben chimed in.  "Yes, that's it. It also came from Hong Kong (as a gift to my father from my mom's family)," he wrote. "A note about my dad: he was the hardest working person I've ever known (and possibly the hardest working person I've heard of). He opened a takeout restaurant in upper Manhattan in the early 70's — a one-man operation — and literally worked 365 days a year, 12 hours a day, for something like 5 years. *Five years without a day off.*"
And if you've noticed the way that Ben holds the buzzer, that means something special to the now seven-day champion. "I liked that the hugging buzzer stance meant a bit of my dad was on display all the time," Ben wrote on Reddit. He also thanked his mother-in-law for telling him to wear the watch "because 'every day is a special occasion,'" his reasoning for wearing it on his wedding day and keeping it in a safe deposit box otherwise.
Ben also added that his mother told him to wear it because "it's not so special. Everyone in Hong Kong has one."
What is special, however: how well Ben is doing on Jeopardy! right now.
Jeopardy!, Weekdays, check local listings