Should 'East New York' Be Saved Following That Season 1 Finale? (POLL)
[Warning: The following contains MAJOR spoilers for the East New York Season 1 finale, "Ruskin Roulette."]
East New York came to an end at CBS on Sunday, May 14 after just one season. But will that be the end of the series altogether?
Prior to its cancellation on May 9, the series' creators shopped the show around in an attempt to save it. The attempts were unsuccessful, but co-creator and executive producer Mike Flynn wrote to fans on Instagram on May 9 that "our journey doesn't have to end here," indicating his commitment to getting the cop drama to a new network.
The show built a large fan base in its freshman season, and in fact had higher viewership than other renewed CBS shows. Those fans have made their voices heard following its cancellation.
"I love East New York! I've watched every episode, it is currently one of my favorite new shows, CBS please change your mind and pick it up for a second season," one viewer tweeted. "It is rare that I like the whole cast of a show but I like each actor that they have chosen so far."
More fans shared their love of the show after the finale. That final scene in #EastNewYork was everything. Such a great series. Another network or streamer needs to bring it back!" another fan tweeted. See some more fan reactions below:
I'm not crying either. #EastNewYork #EastNewYorkCBS #SaveEastNewYork @EastNYCBS
You got rid of this!
Stan was right, abt cop shows, network TV, & true ensemble shows.
Shame on y'all cx'ng w/out really giving it a chance to build/grow. pic.twitter.com/hphbfsK1Hv

— smusedtobefun (@smusedtobefun) May 15, 2023
To our fearless leader Regina Haywood we salute you. Always remember you are love Amanda! #EastNewYork @EastNYCBS pic.twitter.com/TN4pE9Vw7d

— Emily Empire (@MissIVY_League) May 15, 2023
The show #EastNewYork on @CBS has become one of my favorite TV dramas. I'm sad to see it get canceled. Great acting, strong writing & compelling storytelling.

Plus, its star #AmandaWarren is one of the few Black female lead actors on network TV currently. I'll miss @EastNYCBS.

— Jawn Murray (@JawnMurray) May 15, 2023
I can't believe it! This is one the best shows on TV and they won't give it another chance?! Insane! I hope it gets picked up by another network. This incredible show deserves another season!

— Jacquie she/her 🏳️‍🌈 (@BklynJaye) May 15, 2023
I love this show and worked on it a few times. The cast and crew are amazing people. It is a shame that such a highly rated show was cancelled after 1 season. I hope it is picked by another network too.

— SabrinaNYC20 🇨🇦🇺🇸 (@SabrinaNYC20) May 15, 2023
Can East New York change its fate? That remains to be seen. While fans wait for an update, here's what happened in the East New York finale and how it teed up for a second season.
The episode picked up the morning after the shooting seen in Episode 20. The crime took place at the Ruskin Gardens public housing complex at which Deputy Inspector Regina Haywood (Amanda Warren) assigned Officer Brandy Quinlan (Olivia Luccardi) to live. Haywood had sent officers to live among these more "dangerous" neighborhoods in an effort to make them part of the communities they policed.
Throughout the finale, Haywood had to defend the program to male higher ups who were convinced the shooting (which killed two and injured two more, of the injured being a child) was a sign of the program's (and Haywood's) failure. Chief Warren Donaldson (Danny Mastrogiorgio) wanted to shift Haywood to an administrative role, which would've been a promotion but would have also taken her out of her leadership position at the precinct.
The first suspect was Tyson (Jequan Jackson), a man on parole who was living in Ruskin with his aunt, Thora. Criminal records can disqualify someone from living in public housing, so his residency there got Haywood into some trouble with Chief Suarez (Jimmy Smits). Suarez and Haywood got into a screaming match during which Suarez said Haywood couldn't relate to "ambitious" men. That comment, unsurprisingly, wasn't taken too kindly.
The investigation continued, leading the team to discover a shared gun being stored in a supply closet in Ruskin Gardens. The gun was the weapon they were looking for, and security footage showed a man entering the closet to get it right around the time of the shooting.
The man revealed that he was acting out directions from Duane (Rahmell Peebles), one of the shooting victims and the father of the little girl who was shot. Haywood and the team went to find and arrest Duane, who ran when they arrived. He was shot and killed by Officer Andre Bentley (Lavel Schley) during the chase, and Tyson's name was cleared.
With this case closed, the precinct set its sights on the future. The reputation of Haywood's residency program was restored 10-fold when Chief Padaro arrived to sing its praises, noting that it helped lower crime rates in the area. He then asked Haywood to expand the program to other precincts with Suarez's help. Suarez happily signed on, and Donaldson was eating crow.
The episode ended with Haywood, Suarez, and the team congregating at Goody's. Quinlan and Bentley flirted, and Captain Steve Yenko (Richard Kind) toasted to Haywood, saying her leadership made him love the profession again. Moving forward, the drama would likely focus on Haywood's program expansion and the political and interpersonal tensions that come with that, with Quinlan and more officers residing among their assigned communities.
What did you think of the presumed series finale of East New York? Should the series get another chance at another network? Let us know your thoughts in the poll and comments section below.
East New York, Season 1, Streaming Now, Paramount+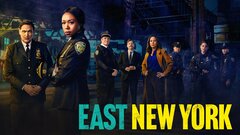 Powered by