'Stars on Mars' Puts Celebrity's Skills to the Test in William Shatner Hosted Competition
When you need someone to work Mission Control and communicate with a dozen celebrities living on Mars, who better than William Shatner? Star Trek's iconic Capt. James T. Kirk took his own real trip to space in October 2021, of course, so he's in his element in Fox's Stars on Mars. "Right from the first time I had this concept, Shatner was in my head," says creator and exec producer Chris Culvenor. "We were thrilled that he loved [the idea] as much as we did."
In the series, 12 famous crewmates, including former cyclist Lance Armstrong, figure skater Adam Rippon and Real Housewives' Porsha Williams Guobadia, are sent to live in an authentic simulated Mars base (also known as the Australian Outback).
They'll eat, sleep and compete as if they were truly on the Red Planet, with the first episode focusing on the team reassembling a satellite tower knocked out of commission by a sandstorm. "We are going to be seeing what it takes to thrive but also see the different aspects and skills that stars might have not shown in the past," previews Culvenor. Which is evident in the exclusive clip, below.
Those skills could come in handy when the "celebronauts" take on missions ranging from physical challenges to mental problem-solving. Not performing well comes with a cost, as participants vote out one of their own each week and the remaining stars battle for the ultimate prize: becoming known as "the brightest star in the galaxy."
Through it all, a cheeky Shatner (playing himself) relays information to the celebs. "He encapsulates the tone of our show brilliantly because this is a big, bold, outlandish idea and it's designed to be family-friendly and to make you smile," says Culvenor. We're ready for blastoff!
Stars on Mars, Series Premiere, Monday, June 5, 8/7c, Fox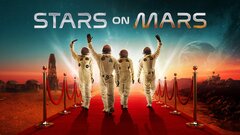 Powered by