'Single Drunk Female': Ally Sheedy Talks Molly Ringwald Reunion & Carol Changing in Season 2 (VIDEO)
Carol is "the one who has to change this season," according to Single Drunk Female star Ally Sheedy.
Season 2 of the Freeform series (all episodes are already streaming on Hulu) sees Sam (Sofia Black-D'Elia) continuing to figure out her life, which directly affects Sheedy's character, she told us when she stopped by TV Insider.
"Carol has to completely readjust her relationship with Samantha because Samantha is no longer the messy drunk and is actually a functioning person in the world," Sheedy explained. "But Carol doesn't know Sam in that way and is very controlling." As a result, she "pretty much blows their entire relationship up." Therefore it's up to Carol to piece their relationship back together, but a major problem is she "hasn't moved off her emotionally stunted position from Season 1."
While Season 2 might be filled with contentious scenes onscreen for Sheedy, off-screen is a much different story. She raves about working with Black-D'Elia. "There's a level of trust" and "an intimacy going on with the scenes underneath the conflict," Sheedy explains. "There's a lot of freedom there when we're working together. I don't worry about Sofia when I'm working with her. I don't worry about going after her."
Plus, in Episode 7 (airing May 3 on Freeform), she reunites with her Breakfast Club costar Molly Ringwald (guest starring as Carol's sister-in-law).
"I love Molly. She's a very dear friend. She is in my life," Sheedy says. "I really did love working with Molly because we could just hang out together and talk about life and blah, blah, blah, and our kids and this and that, and then go in and work, which was really fun."
Watch the full video interview with Sheedy above for more about Carol in Season 2, including her scenes with Felicia (Lily Mae Harrington) and where it leaves her.
Single Drunk Female, Wednesdays, 10/9c, Freeform (Season 2, Streaming Now, Hulu)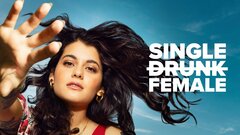 Powered by