'Dancing With the Stars' Returning to ABC, Will Still Stream Live on Disney+
UPDATE (5/3/2023):
ABC has made the official announcement: Dancing With the Stars will be the first series to simulcast across both the network and Disney+ for its 32nd season. (This comes after Season 31 only aired on the streaming service.)
"Welcoming Dancing with the Stars back to ABC offers us the unique opportunity to capitalize on the breadth of Disney Entertainment and reach audiences across all our platforms," said Craig Erwich, president, Disney Television Group, in a statement. "Wherever viewers want to watch, we have a home for them to tune in and root for their favorite couple in the ballroom."
Added Alisa Bowen, president, Disney+, "Season 31 gave us the opportunity to introduce Dancing with the Stars to a new generation of fans on Disney+, and we are excited to build on that with our partners at ABC and Hulu. We're looking forward to giving our viewers a front-row seat to the dance floor on another great season of the first-ever live series on Disney+."
Like other ABC programming, the competition show will be available to stream the next day on Hulu.
"It's a privilege for Dancing with the Stars to become the first live series simulcast on ABC and Disney+," said Valerie Bruce, general manager, BBC Studios Los Angeles Productions. "This demonstrates the belief that ABC and Disney have always shown in our iconic format and how it's become a pop-culture powerhouse with millions of fans. We're thrilled to embark on this new phase in our partnership which has been going strong for nearly two decades."
Original story (5/2/2023):
Disney's Dancing With the Stars experiment is over. In an unexpected move, DWTS is reportedly returning to ABC for Season 32, but will still stream live concurrently on Disney+.
Season 31 made the Emmy-winning series the first-ever live competition show on a streaming platform. According to Vulture, Disney has reversed course, choosing to bring DWTS back to the masses of broadcast audiences while still serving the Disney+ subscribers who tuned in last season. In addition to the show airing live on ABC and Disney+, episodes will be available for next-day streaming on Disney+ and Hulu, which are both owned by Disney.
This marks the latest return to form at Disney in a year of big changes. The media conglomerate reinstated Bob Iger to his former post as CEO in November 2022, ousting Bob Chapek, who took over in 2020 and was head of the company when the choice to move DWTS from broadcast to streaming was made.
DWTS Season 31 aired on Disney+ without ads. At the time of its 2022 premiere, the streaming platform did not have any ad-supported subscription plans. In the time since, Disney+ has added ad-supported tiers to its subscription menu. It's not yet known if the same ads that will run on ABC will also run during the Disney+ livestream, or if the streaming network will carry ads at all during the livestream.
As previously announced, Season 31 marked Tyra Banks' last season as host. DWTS alum Julianne Hough will replace Banks, joining Alfonso Ribeiro as co-host.
Season 32 will mark the first season without Len Goodman, who died on April 24 at age 78. He had previously announced Season 31 was his last season after being part of the series since its inception. Goodman was also an original host on the U.K.'s Strictly Come Dancing, the show on which DWTS is based.
Dancing With the Stars, Season 32, TBA, ABC and Disney+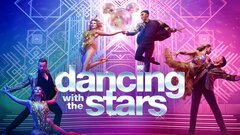 Powered by