LeVar Burton Reveals How 'Jeopardy!' Heartbreak Led to 'Star Trek: Picard' Bliss
It might have been LeVar Burton's dream job to host Jeopardy!, but not landing the coveted gig ended up working out for the best, as the Emmy-nominated actor instead found "absolute bliss" working with his daughter on Star Trek: Picard.
Burton campaigned for the Jeopardy! hosting position following the passing of the legendary Alex Trebek and was one of several rotating guest hosts in 2021 as the producers looked for a new permanent replacement. Fans even created an online petition (with thousands of signatures) to get Burton the role.
However, it wasn't meant to be. The job initially went to the show's executive producer Mike Richards, though he departed just three weeks later after sexist comments he made on a podcast several years earlier resurfaced. Eventually, former Jeopardy! champion Ken Jennings and The Big Bang Theory's Mayim Bialik were named permanent hosts.
Speaking to People, Burton said that he learned from his failure and is happy with how things turned out.
"Your failures are more important than your successes because you learn more from them," he explained. "Everything happens for a reason, and it's all purposeful and perfect. So where's the perfection in 'I didn't get what I wanted'? I discovered that [it] wasn't supposed to be mine, but the process that I went through led me to exactly where I needed to be."
Burton is now appearing in the third and final season of Star Trek: Picard, reprising his iconic role of Geordi La Forge. Had he been hosting Jeopardy!, it's reasonable to expect he wouldn't have had the time in his schedule to take on the Picard role.
Part of what makes the Picard job so fulfilling for Burton is the fact he gets to work alongside his daughter, Mica, who plays one of Geordi's daughters on the show. And he also gets to reunite with his Star Trek: The Next Generation co-stars Patrick Stewart, Brent Spiner, Michael Dorn, Jonathan Frakes, Marina Sirtis, and Gates McFadden.
"Mica's grown up with them all," Burton shared, adding that Spiner was his best man at his 1992 wedding to Hollywood makeup artist Stephanie Cozart Burton (Mica's mom), while Dorn, Frakes, and Stewart were groomsmen. "We have spent so much of our lives with each other… [being back on set] was effortless — like the old days."
As for Mica, she told people that when her agent first informed her that she was cast in Picard, her dad didn't know, so she got to be the first one to tell him. She also described her first day on set, recalling, "My dad drove me to work, and it was just my family on set, my Star Trek family."
That said, she didn't grow up as a Trekkie. "I didn't want to be 'LeVar Burton's daughter.' I wanted to be myself, my own person. And so I purposefully was anti-Star Trek for a long time," she confessed.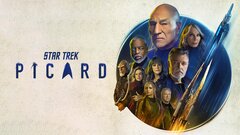 Powered by