Eric McCormack Talks Playing Against Type as a Villain on 'Slasher: Ripper'
Shudder's anthology series Slasher has debuted its fifth season, entitled Slasher: Ripper, starring Will & Grace's Eric McCormack.
The season, set in the late 19th century, follows Basil Garvey (played by McCormack), a charismatic and forceful magnate whose ambition and cruelty are unparalleled. He presides over a city on the brink of a new era amidst a period of social turmoil that will soon result in violent unrest. Meanwhile, a murderer roams the city's streets, but unlike Jack the Ripper, who preyed on the underprivileged, this killer, known as The Widow, is dispensing vengeance on the wealthy and influential.
If it sounds like an out-of-the-box part for the Will & Grace star, he'd have to agree, and it was one of the driving points for him to take on the villainous role. In an exclusive interview with TV Insider, McCormack discusses the nuances of his character, what attracted him to this period piece of gothic horror, and what to expect from his upcoming podcasts, including one that Will & Grace are sure to love.
What can you tell us about your character?
Basil Garvey is one of my favorite things I've ever done. He is a bastard! He is a brutal asshole. He is entitled and rich. He's Rupert Murdoch if Rupert Murdoch killed people. He couldn't be worse. And I absolutely adored him. I think I read three scenes, and I called my agent, and I went, 'I'm in I gotta be this guy.'
He is unedited. He treats everyone like shit. And so, several episodes in, when he falls head over heels in love with someone he'll ever really be loved back by, you see this sort of humanity in him that is surprising because other than that, he's inhuman.
He reminds us of Jay Gatz from The Great Gatsby, but with a darker take.
Absolutely. Yes. I mean, except there's a kindness to Gatsby that doesn't ever happen here. And he's not just brutal and mean, he's godless. Like, the third scene in, I'm walking with the town preacher, and he says something about God seeing what you do. And I just whip around on him. And I say, 'Fuck, you're God!' Like, wow!
Your character is described as the devil, and although a lot of the citizens have a hand in it as well, blame Garvey for their rotten town and wish for your murder before being killed themselves. Is there a metaphor behind this?
Yes. If you're talking about someone that just got indicted, I don't know! There's definitely a feel to how rotten things can be if they're rotten at the top.
There are good people in this story, but they have to fight for their goodness because almost everyone else, and I think this is kind of a slasher trope, but almost everyone else is corrupted or corruptible. They're all suspicious that any of them could be the killer or The Widow as he or she is known. And that's the fun part of this, despite all of the violence. There's a great mystery in this there really is it's really, it's gonna be tough for anybody to figure out who the bad guy is because we're all bad.
What was the most gratifying thing about playing Garvey?
For me, really it was the surprise, particularly from my director. I don't think I was his idea [for the part]. Adam McDonald is a fellow Canadian actor that has become a director, he's directed all the Slashers, and I think somebody said, 'Oh, we can get Eric McCormack,' and I'm sure in his mind, he was like, 'the gay lawyer guy?'
But I came in Day One, we had five Basil Garvey scenes in a row, brutal scenes. And by the end of that day, just the shock on his face was the most gratifying thing, and that's what I'm hoping for from an audience is that they think they know me as an actor, but they ain't seen Basil yet.
There are whispers of Clay Mosby, your character in Lonesome Dove, in Basil Garvey. Did you approach their performances the same? It feels like that could have been him in another life.
Yeah, I mean, I certainly thought of that. But a lot of people don't know my Lonesome Dove work. So I never assume it. But yeah, for me, that was my first real–I just turned 30 with my first real grown-up part. And I grew the beard, and he had a very quiet danger. I would say Basil's danger is a little less quiet. But it is very similar to somebody that has tremendous power, and particularly in the second season of Lonesome Dove. Mosby wielded it quite brutally. So it does feel like [playing] Mosby 30 years later.
On a podcast you were on, Horror Queers, I heard that you loved the script. Was there a favorite page-to-screen moment you had?
Like I say, there are two sides to him. In almost every scene, he is brutal. The words are fantastic, you know, like Ian McShane from Deadwood kind of stuff. But I loved the second side when he falls in love with young Verity. He is totally smitten. He's 40 years older than she is and can't stop thinking about her. And there were two scenes in particular, that will come a little later, where I basically "bought" her, I purchased her. Like a slave that I'm treating so beautifully, […] because I want her to fall in love with me. But she can't go anywhere.
And there's a scene where I come to her bedroom, and she wakes up, and I'm looking at her; it's really creepy as hell. And then I open the curtains, and the sunlight comes in. And I think that was something we shot, we had almost no time left in the day, it was rush, rush, rush. And I just said to Adam, 'Please just let me–this scene is so important to me.' And I love how that scene came out. I think it's equal parts creepy and kind of romantic. And it's kind of sad because it's like, 'dude, you're in love with someone that hates you!'
Speaking of podcasts, it was recently announced that you have one of your own coming out soon with Steven Weber. Is there anything you can tell us about that? A highlight episode or moment?

It launches next week. Basically, Steven and I have been dining together for 20 years and almost always with 2,3,4 other pals. Our group of guys we call ourselves The C.A.D.S., the Character Actors Dining Society. We just thought, 'why aren't we recording these dinners?' Because it's such just a wealth of showbiz stories and theater stories.So that's basically what the podcast is. It's called Eating Out with Eric and Steve. And our first episode next week is Richard Kind and LeVar Burton. We're all pals for a long time. I did a series with LeVar, everybody's done something with Richard, and it's just a conversation over dinner, and I think people are just going to enjoy it.
I've noticed whenever I go out with some variation [of] these guys, there's always somebody, maybe we're at The Palm or something, and there's somebody, who's from out of town, just leaning in trying to hear the conversation because it's fun. It's fun to hear actors yakking and drinking and telling more stories. So that's the whole podcast. I think it's gonna be a good time. We have Bryan Cranston coming on and Tony Shalhoub, but we have so many great people joining us–Jason Alexander…
And, then, I'm starting another one. We just started with Sean Hayes, we're doing a Will & Grace rewatch podcast. That will launch in June, and it's called Just Jack & Will. And it's just the two of us going through the episodes we'll have guests on and sort of go through the whole series.
Looking back on Will & Grace and the revival, are there any fond memories you had on set or behind the scenes? Did you ever get to hang out with Leslie Jordan during this time?
Oh, Sure, I mean, Leslie's just a tragic loss. I mean, he's gone way too soon. Just so much joy. There was a lot of joy. Because virtually everybody came back in every department, all our department heads. So it really did feel like time stood still. And I think it would have felt a bit sheep or tawdry if we'd sort of done it ish. It felt like the show, and I loved every minute of coming back because I realized that while we had closure and we said goodbye, and it was a big ratings night all those years ago. I never really said goodbye to the character and to the experience. I love being on that set. Being in front of an audience that is excited to be there. It's a very special thing.
Slasher: Ripper, Season 5, Streaming Now, Shudder and AMC+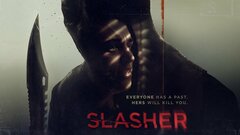 Slasher
where to stream