Danielle Pinnock & Ashley D. Kelley on Bringing 'Alberta's Descendant' to 'Ghosts'
[Warning: The below contains MAJOR spoilers for Ghosts Season 2, Episode 18, "Alberta's Descendant."]
Ghosts is no stranger to family reunions, but the latest installment, "Alberta's Descendant," delivers some of the show's biggest twists for everyone's favorite flapper, Alberta (Danielle Pinnock), thanks in part to a visit from her sister's kin, Alicia (Ashley D. Kelley).
The actresses, who play family onscreen, are separated by the plane of the living and the spiritual worlds, as Alicia checks into Woodstone and informs Sam (Rose McIver) that she's related to Alberta. Curious to know more about this descendant, Alberta pushes Sam to pry for information and eventually learns that Alicia's interested in learning more about her relative's past with the help of the Alberta-obsessed "creepy" Todd (Rodrigo Fernandez-Stoll).
While they may be related onscreen, Pinnock and Kelley's bond runs deeper behind the scenes as both performers met over 15 years ago at Temple University. When the role for Alicia came along, Kelley, who is starring in Broadway's new musical Shucked, says, "I didn't wanna tell Danielle. I wanted it to be a surprise because we hadn't seen each other in like…."
"Since 2010," Pinnock chimes in. Despite more than 10 years apart, the women were no less exuberant to work together. Pinnock recalls the moment showrunners Joe Port and Joe Wiseman informed her of Kelley's casting: "They said, 'Hey, we cast your descendant. Do you know this young woman named Ashley Kelley? She's really great,' and I said, 'Ashley Kelley?! God, she's amazing.'"
"It really does feel like a dream come true," Pinnock says. "You know, that song 'reunited and it feels so good?' That was the vibe on set. Ashley and I had so much fun. And the thing that made me laugh the most was the Joes were like, 'we think we may have some singing in the episode. Can she sing?' I said, 'y'all, she is the singer.' I was like, 'this woman is a Broadway-trained actor. She's incredible.'"
Viewers got to see that on display in the final moments of the episode when Alicia decides to show off her voice for Sam and Todd and Alberta harmonizes with her. "I was just so honored and so excited that I got to work with her," Pinnock shares. The musical moment also had a personal tie as the actress adds, "my husband arranged that song for us, Jack Wallace."
Additionally, Pinnock and Kelley sing the praises of this episode's director as Pinnock says they were "just so open to us playing and having fun and improvising. What they wanted the most was for this episode to ring true, not only for the character of Alberta but for Black people. They wanted it to feel authentic. They didn't want it to feel like, oh, we're just doing this for diversity's sake, and I'm really grateful for that."
When asked about any future music collaborations, Kelley notes, "I would love to," before addressing her friend directly to say, "Miss Danielle Pinnock, I would love to put out a single or something.'" The Shucked star adds, "here's the thing, Danielle be pretending like she can't sing. She can sing!"
"I am not a singer," Pinnock refutes Kelley's claim, adding, "I'm an actor who can hold a few notes." Whether she defines herself as a singer or not, Pinnock certainly fits in with her Broadway counterpart in this episode, which also makes way for the big breakthrough in Alberta's mysterious death.
"Alberta may have some backstabbers in her own immediate family," Pinnock says as the final moment of the episode indicated that Alberta's own sister could be responsible. "So it sucks for her." She also teases, "these next couple of episodes after this, they're gonna be good. We will finally get to solve the murder of what happened to her in this season. And I'm getting chills… they're phenomenal."
Of course, the growing mystery also keeps the door open for Alicia's return, and Kelley acknowledges that her character would harbor guilt for her ancestor's actions if Alberta's sister does turn out to be responsible: "I think Alicia really bonds with Alberta and her spirit and all that she got to accomplish in her life. And so I think it would hurt her to the core to know that her great-grandmother was the reason [for Alberta's death]. She would absolutely feel some type of way about that."
Only time will tell how the mystery will unfold, but in the meantime, we'll continue to bask in the glow of these kindred souls both on and offscreen. And while fans can expect to see more of Pinnock as Alberta, they can swing by New York City to see Kelley in Shucked. "I want everyone to come see it," she says. "I want everyone to come spend a couple of hours melting their problems away and just laughing with us."
Ghosts, Season 2, Thursdays, 8:30/7:30c, CBS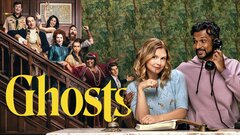 Ghosts
where to stream
Powered by