'Ghosts': Sheila Carrasco & Devan Chandler Long on Flower & Thorfinn's Big Step Forward
[Warning: The below contains MAJOR spoilers for Ghosts Season 2, Episode 15, "A Date to Remember."]
Romance is in the air for the spirits of Woodstone in the latest episode of CBS's Ghosts as Thorfinn (Devan Chandler Long) and Flower (Sheila Carrasco) take a big step in their relationship.
Aptly titled "A Date to Remember," the duo finally manages to go on their first one-on-one date. So, what's the catch? Things go a little too well and Flower decides it's time to implement her forgetfulness as a shield to avoid being honest about her feelings. "I was pleasantly surprised with how they wrote the episode," Carrasco tells TV Insider. "I love all the things that Thor planned for her and the use of the whole ensemble and trying to create the most perfect date. It was just so much fun for us to film, it kind of felt like Christmas morning."
"We just have such a great little chemistry together," Long adds of their onscreen dynamic. "We're pals. We bro out [when] they give us all these fun scenes to do. It's a dream come true."
Coinciding with Valentine's Day in the Ghosts' show world, Thorfinn gets his fellow spirits to help plan the perfect date, which includes an aromatic meal prepared by Jay (Utkarsh Ambudkar), country tunes sung by Alberta (Danielle Pinnock), and an improv set by Pete (Richie Moriarty). The date goes so well that one thing leads to another and the pair share a kiss.
The next day, excited to discuss their date, Thorfinn is distraught to discover that Flower has seemingly forgotten the entire event. He only realizes she's lying when they're most of the way through their perfectly reconstructed first date for the second time. But there's a reason for her reluctance.
"I think underneath Flower's super happy veneer and forgetfulness is just bubbling with a lot of pain and sadness, which is a very human experience," Carrasco says. It's revealed in flashbacks that before her time as a hippie, Flower had been a law student who fell in love with a man named Michael. All of their plans for the future were cut short though when he became ill and ultimately died.
"To be able to play someone that has been successful, up to this point, kind of masking this trauma in her life was really a big suitcase to unpack as an actor, and I was really grateful for the opportunity to get at the reason she has these intimacy issues," says Carrasco. Once Flower does open up, she learns that there's nothing to really be scared of because Thorfinn isn't going anywhere.
"Thor knows trauma," Long notes. "He gets it. I think the characters are learning how to accept themselves and be vulnerable with each other because it's like… what are you protecting anymore? We're not alive anymore. We're here in this purgatory. Thor is an open ear, so she could feel that connection."
And according to Long, fans only got to see a portion of what was filmed for Flower and Thorfinn's date. "There was actually a whole other scene where Flower and Thorfinn had another date that got cut. And it was such a good scene," the actor shares. But fret not because there's a chance this date could pop up later on.
As for future dates, we couldn't help but wonder what one planned by Flower might look like. According to Carrasco, "I think for her a date would be like holding hands, staring into each other's eyes, maybe listening to music, and like losing track of time, you know? Which is kind of her preferred state of being all the time."
So, what's next for these new lovebirds? There may not be as heavy of a focus on the pair in any other Season 2 episodes, but Long reveals, "there are little things here and there that will come up in episodes about Flower and Thorfinn being together." And there are high hopes for the recently announced third season. "Sheila and I are really hoping that Flower and Thor play tricks on people, throw weird parties, [and just run the] house like it's a frat, just getting into all kinds of trouble."
"They're a real fun couple together," Long concludes.
We couldn't agree more. Let us know what you thought of Flower and Thorfinn's big date in the comments section, below, and don't miss what's next for them as Ghosts continues on CBS.
Ghosts, Season 2, Thursdays, 8:30/7:30c, CBS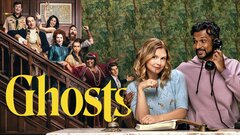 Ghosts
where to stream
Powered by