'SVU': Molly Burnett Says Velasco Brings Out Muncy's Softer Side — Are They the New Benson & Stabler?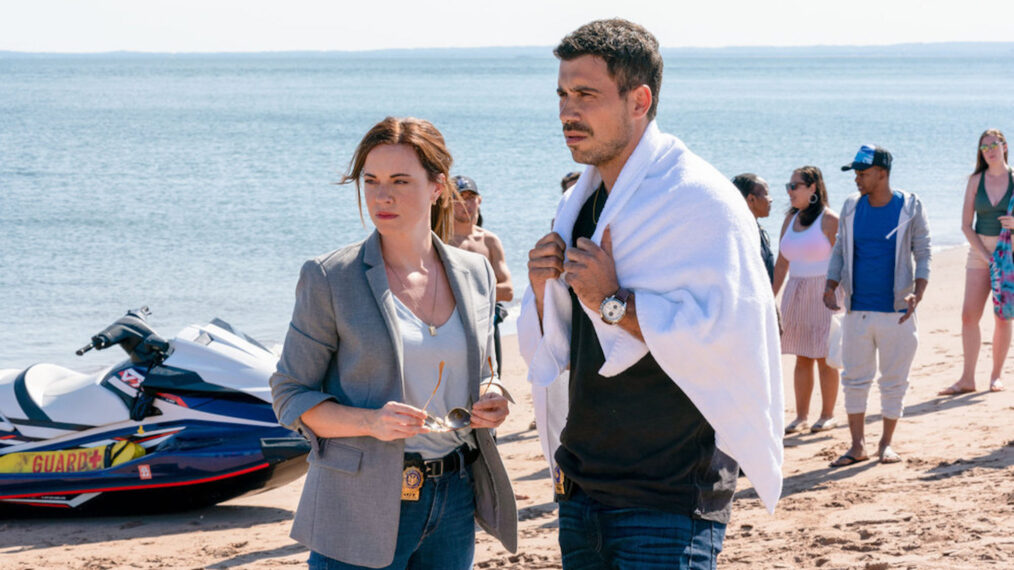 Detective Grace Muncy is a good cop who handles rape survivors with empathy. But SVU's newest member is also a tough nut with, as Molly Burnett puts it, "anger issues."
Her protective shell cracks a bit on the March 30 episode of Law & Order: SVU after Captain Benson (Mariska Hargitay) has Muncy's younger brother, Teddy (Michael Trotter) brought in as a person of interest on a case in which women are drugged and delivered to men who pay to sexually abuse them.
Burnett talks about her complicated character and her experience being part of TV's record-breaking crime show.
Muncy is a bit of a mystery so far. She's cynical and she sometimes seems to be itching for a fight. Who is SVU's newest detective?
Molly Burnett: I would say that's true. Her mom died when she was really young and she was kind of forced to take care of her little brother, who'll we meet. When you lose a parent like that, and you're in a tough part of the city, you grow up really fast. It's fun to play this kind of badass character with work to do on her emotional EQ.
What's her relationship like with the brother who could be a possible sex crime abettor in this week's episode?
She's still in this mothering role because they live together. Though he's a troublemaker, she loves him very much and she's incredibly loyal to him especially after their trauma bond when they lost their mom.
Why is Teddy brought in by the sex crimes unit?
Girls are being dosed with date rape drugs at a bar, and her brother knows a bunch of guys who hang out there. Benson tells Muncy that they need to bring him in so they can question him. She loves and trust Teddy and doesn't want to believe he's involved. That causes some good drama.
Does Benson warn Muncy not to contact him?
She tells her not to dare get involved and puts on-loan officer Churlish [Jasmine Batchelor] and Detective Velasco [Octavio Pisano] on the investigation. For all of Muncy's inclinations to rebel, she always listens to Benson. She really respects her. The color I put in is that the captain is the female figure that Muncy never had before.
Muncy has a beef with Churlish because she had recorded Velasco during an interview with a perp in a previous episode because she didn't trust him.
Yes. Velasco and Muncy have really bonded in the squad. They have a beautiful friendship. Benson sees that Muncy's very loyal to Velasco, and once again, she says, "Stay clear of this because I don't want anything to get muddied here." It's a theme with Muncy for sure.
Will we learn anything more about Muncy in this difficult episode?
It humanizes her a bit. There's a really beautiful scene with Velasco, who tells her she should forgive Churlish. Muncy divulges that she was only seven when her mom died, and the environment around her didn't allow her to be soft. So you get a little insight into why she's so guarded and aggressive.
She certainly wasn't very likable when first meet her.
No! But you get to follow [her] journey and growth.
The newbie does seem to be dialing down her aloofness from her new team.
I was on Days of Our Lives for a long time, and for a while my character was a little brat. I remember reading the script, and going, "Everyone's going to hate me so much." And they said, "Don't worry, it'll pay off," and it did." But Muncy still has a lot to learn.
Do we see some vulnerabilities in the character in this episode?
I've been guided to stay away from anything too emotional right now. That's hard, because I'm so emotional and everything makes me cry. [Laughs] I'll do a scene, and they'll be like, "OK, that was beautiful, but remember, Muncy would probably not be affected in that way." We do get a little bit of vulnerability when Velasco brings out her softer side and she opens up to him about losing her mom.
They could be a future Benson and Stabler (Christopher Meloni). [Laughs]
Oh, man. I don't think anything will ever be as epic as those two, but if we even scratch the surface, that's a compliment.
Moving from squishy stuff to the action part of your role, do you enjoy doing those scenes?
Oh, my gosh, yeah! In real life, I'm a goofball. Muncy's a lot cooler than I am, and she's definitely not afraid to get into a fight, like I would be. [Laughs] To be able to pretend like you're cool on camera is so much fun! But I was FaceTiming my father on set and I showed him my badge and my gun and I was like, "Look, Dad," and I pulled the gun out and the holster comes out, too. He shook his head and said, "How are you playing this cool police officer?" [Laughs] I went, "I honestly have no idea!" But Mariska's really been helping me dig in to Muncy and owning my power. It's been a really cool journey so far that I feel grateful to be on.
You've done a batch of spots on crime shows since your soap days. Among them CSI: NY, Major Crimes, Longmire, and recently the drug drama Queen of the South.
Yes, Kelly, my character on Queen of The South, was a wild Texas ex-trophy wife, Dallas cowboy cheerleader, and sassy cocaine dealer. I always joke that now I'm on the other side of the law.
This isn't your first Dick Wolf venture, is it?
I actually did two: FBI: Most Wanted and a few months later Chicago P.D. So I got to dip my toe in the Dick Wolf pool before I got to hope over here.
How do you feel about landing a regular role on Law & Order: Special Victims Unit, the longest-running scripted live action primetime show ever?
My mom passed away young, and I know that this was one of her favorite shows. So that fact that I'm on SVU, I feel she played a part in that somehow. Something really cool that happened is that showrunner David [Graziano] let me wear on screen the Serenity Prayer necklace that my real-life brother and I both wear. It's our mom watching over us. When they brought Muncy's brother on the show, I asked if he was OK with Teddy wearing the necklace, and he said, "Absolutely!" So Teddy and Grace Muncy both wear the necklace for their mom and, in turn, I wear it for my mom and I just think that's such a fun little Easter Egg.
Law & Order: SVU, Thursdays, 9/8c, NBC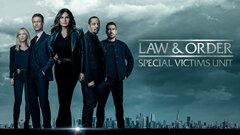 Powered by