NBC Orders 'Will & Grace' Revival
Will & Grace will return for a 10-episode revival, NBC announced Wednesday during the Television Critics Association press tour.
Stars Eric McCormack, Debra Messing, Sean Hayes and Megan Mullally will all be back, as will series creators Max Mutchnick and David Kohan. "Dave and I are absolutely thrilled about the opportunity to write what Will, Grace, Jack and Karen are thinking about in 2017," Mutchnick said in a statement. James Burrows, who was the show's original director, will also return.
"We're thrilled that one of the smartest, funniest, and most defining comedies in NBC history is coming back," said NBC Entertainment Chairman Robert Greenblatt in a statement. "This groundbreaking series for everything from gay rights to social and political commentary—all disguised as a high-speed train of witty pop culture—is coming back where it belongs."
RELATED: Photos of Your Favorite TV Stars at TCA
Jennifer Salke, President of NBC Entertainment, added: "We started talking with Mutchnick and Kohan about producing new episodes right after they shot the secret reunion show back in September, and the fact that all four of the original stars were excited about getting back into production is a testament to the joyful experience they had doing nearly 200 episodes for eight seasons. Few things cut through the clutter these days, especially in comedy, and 'Will and Grace' is one of the best."
The stars reunited prior to the revival to film a viral short timed to the election. "The four of us don't see each other much, but we instantly gel whenever we are," McCormack previously told us. "The four of us had a dinner [the night before] we sang and hosted a Hillary Clinton fundraiser in Hollywood. Just to sit around together and realize how easily this comes back is pretty great."
RELATED: Will & Grace Election-Themed Reunion Feels Like the Show Never Ended (VIDEO)
The series ended with McCormack's character Will in a good place—married with a child. The finale flashed forward to him reuniting with Grace (Messing), as well, after the duo were estranged for years, and the actor admitted he occasionally thought about where his character would be now. "We finished the show with Will having a husband and having a child. Even though that really only happened in the last two episodes of the show, that's what I think about," McCormack said. "I think about would he and his husband still be together? How old would the child be? Because my kid is fourteen, but Will's would've been eleven right now. I do think of those parallels sometimes."
– Additional reporting by Kellie Freeze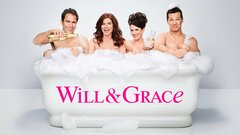 Powered by