'Will & Grace' Election-Themed Reunion Feels Like the Show Never Ended (VIDEO)
The surprise mini-episode of Will & Grace that was released right after last night's presidential debate has been online for about a half a day, and it's already got over a million views. Not a shock: the show, especially during the early years of its 1998-2006 run, was getting Big Bang Theory-level numbers. What is shocking is that, ten years after the show left the air, it feels like it never ended.
It looks like a full episode was shot then edited down to internet video length, depicting Will (Eric McCormack) and Grace (Debra Messing) still living together in the same apartment they've been in for close to 20 years now. Karen (Megan Mullally) is voting for her dear friend Donald Trump, and Jack (Sean Hayes) is still, well, he's still Jack.
The episode is full of current pop culture references—ireally current, like Brangelina divorce current—iand the message is to #VoteHoney. W&G try to convince the apathetic Jack to vote for Hillary Clinton. Grace has a speech and tries to sing (Karen and Will shoot it out to decide who will stop her) and we even see Karen's embattled housekeeper Rosario (Shelley Morrison) in the mix.
RELATED: Megan Mullally Says Nick Offerman Wasn't Her Type (at First)
The message is a bit Hillary-heavy, but the message is there: it's important to vote, no matter how insignificant you think your vote might be. But we have a couple of questions:
1. Have W&G been living together this whole time, or, like on the series, they've come together again after a time apart? Either way, they really need to meet other people.
2. Is it me or does Jack's shtick, which felt fresh in 1998, feel like a caricature now?
3. How is Stan not dead yet?
4. Why has Rosario not smothered Karen in her sleep?
5. Why can't networks make sitcoms like this anymore?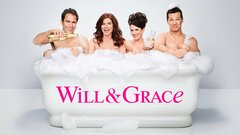 Powered by