Do the Stars of 'The Big Door Prize' Believe in Destiny? (VIDEO)
What happens when small-town folks are offered a peek at their destinies… and find that their current lots in life are lacking? That's the question at the center of The Big Door Prize, Apple TV+'s whimsical, optimistic new dramedy dropping Wednesday, March 29.
Like Schitt's Creek (the series hails from that series' writer, David West Read!) by way of J.J. Abrams and filmed by Wes Anderson after he binged Ted Lasso, the series is blessed with an immensely likable cast and an instantly fascinating hook: A mysterious machined emblazoned with the name Morpho suddenly appears in a cozy hamlet's general store. Soon enough, all of the locals line up for tiny envelopes from the machine containing "their life's potential" — all except for Dusty (Chris O'Dowd), a happy-go-lucky high-school teacher who is both skeptical and shaken by the machine's ability to assess his neighbors' personalities.
In honor of The Big Door Prize's premiere, we grabbed O'Dowd and his costars — relative newcomers Djouliet Amara and Sammy Fourlas, Scream VI's Josh Segarra (who is hilarious as a bro'd out lunk), and Black Lady Sketch Show standout Gabrielle Dennis — during a photo shoot (hence the flashing lights!) to ask about what sort of twists are in the cards for their characters. Plus, they shared whether they believe in destiny or the kind of otherworldly influences examined within the show.
"It's a comedy that has elements of drama and magic [with an] eeriness to it around the edges," offers showrunner David Read West, who has adapted M.O. Walsh's novel of the same name into a quirky, thought-provoking charmer. "The idea of being told your potential is very aspirational at first, but reckoning with whether that's possible is slightly more unsettling." And a tad inspiring.
As more of Dusty's loved ones and colleagues set out to change their lives (seemingly for the better) based on whatever Morpho has told them they should be, he inevitably gives in and gets his own envelope. And what it says may leave this perfectly content everyman character completely speechless. Says O'Dowd, "He thinks he has it made, and then suddenly a spanner is thrown into the works."
The Big Door Prize, Series Premiere, Wednesday, March 29, Apple TV+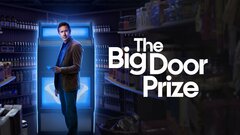 Powered by