Kate Hudson Rolls Around the Floor in 'Late Late Show' Toddlerography Bit (VIDEO)
The Late Late Show host James Corden has the special ability to get celebrities to do the darndest things.
Last night's guest: actress and entrepreneur Kate Hudson, who was promoting her athleisure label Fabletics.
In a running gag on the show, Corden convinced Hudson to join him for a Toddlerography class with instructors he called a "nightmare." Of course, the instructors were the world's cutest kids performing dance moves only toddlers could come up with. Being a good sport, Hudson played along, but was no doubt outshined by her mini trainers.
Watch the clip below.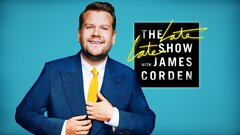 Powered by