Maurice Benard Reveals His Favorite 'General Hospital' Storyline Over 30 Years
In 1993, a new face showed up in Port Charles and ABC's General Hospital would never be the same. Mobster Sonny Corinthos, played by Maurice Benard, proved to be no ordinary member of the mob, forging deep relationships and becoming engulfed in storylines that ranged from the loss of a loved one to paralysis and memory loss. So it's no surprise that both Sonny and Benard quickly became fan favorites.
The key to Sonny's longevity has been making him a layered, real character, and a lot of the credit goes to Benard. The now-veteran daytime star has even brought his own life into the show by both talking about his own bipolar disorder and giving the same diagnosis to Sonny.
On the eve of General Hospital's 60th anniversary on April 1, Benard reflected on his iconic character, talking about everything from how Anthony Geary (Luke Spencer) got him to stay on the show to working with Vanessa Marcil as Brenda Barrett, one of Sonny's most popular love interests.
What do you remember about your early days at General Hospital? Was there something different about the show or the character of Sonny?
Maurice Benard: I decided to do the show and wanted to do a six-month contract. I thought the name Sonny was cool, and I thought working at a nightclub was cool. I just didn't know that three weeks into the gig, I was going to have a nervous breakdown. I intended to leave. But I've been there 30 years.
What made you want to stay? Was it what they wrote for Sonny, or just you connecting with this character?
No. What it was is I signed a year and Tony Geary sat me in my room and said, 'Do you want to keep playing Toto to my Lone Ranger?' I said, 'Well, Tony, I'm having a good time with you,' and he goes, 'Well, go upstairs and tell them to give [Sonny] a family and a girlfriend.' So I did that and once they gave me a father and Brenda, that was it.
The Sonny and Brenda pairing was huge. Did you feel that at the time that there was something magical there?
I knew that there was something but I knew that in order to take it to another level, I needed to work with Vanessa privately. She said "great," and she busted her ass and allowed me to just help her. That's when it really jumped because then her acting was much better and then we just took off. In the beginning, there was always something there because of the way we looked together but to take it to another level, the acting has to be strong all the way around.
What were your conversations with the writers regarding where you wanted to see Sonny go over the years?
The problem that I've had was that I wanted to have too much control and it wasn't good for my mental health. I just wanted it to be perfect. With [executive producer] Frank [Valentini], I've just ended that because it's too much for me. I'm not involved myself too much [now], but in the past, boy, I was right in there with everything.
The truth is I didn't need to be as much because they did a great job, man. You look at those shows in the first decade and the second decade with Wendy Riche and Bob Guza and Jill Farren Phelps, there was some great stuff going on, man. There was some great stuff going on.
Which of Sonny's storylines over the years have you most enjoyed?
The one that I probably feel is my favorite is the Alzheimer's story because a lot went on in that thing. My dad had Alzheimer's at the same time and he died a little bit later. That was probably a storyline that all the way around with the actors, everybody just lifted it up more than usual. And acting-wise for me was as real as I've ever been in my acting career.
Those scenes were wonderful with Max [Gail]. They were truly great.
Yeah, he's a gem, and Laura Wright and Steve Burton, everybody involved in that thing was amazing.
As viewers, we feel like we know these characters so well, but then you see them go through something like that and there are new layers that get pulled back. Did you feel that with that particular storyline?
Yeah. That's a good question. Before that, I thought I had done it all. I've done my best work, I'd won an Emmy and then they bring the Alzheimer's story. At the audition [to find an actor to play Mike] there were a bunch of great actors. Then Max came in and in the middle of the audition, I found myself really moved in a weird way. And at the end, he took me and he hugged me and he kissed me on the cheek. I didn't know this guy and he left the room and I'll never forget, Frank was in there and producers. I went to the wall and started bawling like a little baby.
Frank goes, 'What's wrong?' I said, 'I don't want to do this f**king story, man.' He goes, 'Well, that's why you get paid the big bucks' or something like that. And I said, 'If you don't hire that guy, then I'm cool. I don't have to go through that stuff. But if you hire that guy, then I'm going to have to go through it.' So they hired Max. Oh my goodness, it was wild, but it's been all worth it.
Right now on the show, Sonny is in a tough position with his work and family.
He's caught between always wanting to protect his family, and his girlfriend, needed to protect her and his kids. But I've been having a great time. I love playing the underneath of that and the high stakes and Sonny's been another character for over two years now. I'm starting to go back to basics and being who Sonny was in the beginning. You'll see a difference.
I've been asking a lot of folks lately why General Hospital has endured and will continue to do so. What do you think?
The reason it endures is very simple. Aside from the hard work of the actors, the writers, producers and everything, it's the audience. There's no way around the loyalty of daytime audience. Like I say, even if I think something's bad on the show, they think it's great. I'm going, "Wow, OK." It's every day watching, like part of the family. And I'll say it again because I think it should be said, they should have never taken off All My Children and One Life to Live.
I agree. I miss those shows.
I think they figure it out afterward, but you don't mess with this audience.
General Hospital, Weekdays, ABC, Check Local Listings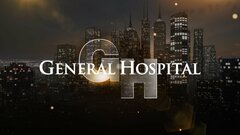 Powered by