Paul Campbell Says Hallmark's 'The Cases of Mystery Lane' Is His 'Brooklyn Nine-Nine'
Paul Campbell has starred in (and written!) quite a few Hallmark movies, but the world he steps into for his latest is mostly new to him: mysteries. (Although his 2021 Christmas film The Santa Stakeout did have a crime component.)
He stars opposite Aimee Garcia in The Cases of Mystery Lane (premiering March 19 on Hallmark Movies & Mysteries). Garcia's Birdie Case is a bright, successful attorney. Her husband, Alden (Campbell) may be smart and charming, but their marriage is strained because he can't settle on a career. And so he begins taking classes to become a private investigator (without telling Birdie), only for an assignment to lead to a murder case… that requires him to get help from his wife.
Campbell previews the film, hopefully just the first for the Cases.
You've done quite a few Hallmark movies. What appealed to you about this one?
Paul Campbell: The script is one of the best scripts that I've ever read at Hallmark, and I don't say that lightly. The writers are new to Hallmark. The script was originally written for broadcast TV for network. It was written as a pilot and didn't end up going forward and then Hallmark bought it. And it's kind of my Brooklyn Nine-Nine. If I had a dream role, it would be Andy Samberg's role in Brooklyn Nine-Nine. And when I read this, I was like, "This is it. They're giving me a shot." It's quirky and it's silly and it's clever, and the relationship between the two leads is wonderful. They're real characters. There's humanity. It was everything you could possibly want, plus disguises, fake mustaches. I mean, you can't go wrong.
Speaking of the relationship, because the film starts with the couple married, which isn't that common with Hallmark, what do you get to explore with them as a result?
They're going through their own marital struggles and ultimately through the course of solving this case together, they end up kind of resolving some of those issues or rediscovering the thing that may have been lost along the way that they didn't even know was lost in their marriage. They kind of end up rediscovering each other.
But the extraordinary thing about coming into a movie as a married couple is you don't have to develop the relationship. You're not learning about each other. So the characters automatically have a shorthand and they speak to each other with some familiarity. The way that they engage is really fun and organic. You're not trying to discover a new person. It also gives you a lot of license to the way that you speak to each other. There's no subtext in the conversation because they have 10 years of history with that person. So there's just a gravitas to everything that they do. The stakes are automatically higher because they have a marriage on the line.
Talk about working with Aimee because you're going in with these characters with an established relationship.
Aimee's a pro. She's done [so many] episodes of TV, so when you get an actor like Aimee in a scene, the ability to improvise, to sort of find the little beats between the lines of things that are so second nature to couples that have been together forever, that may be either on the page in the script or sort of implied, the ability to get into the scene and just find that level of comfort, to be so comfortable in your own skin and you can just embody those characters in a really organic way, makes all difference. It's not an easy job to authentically live in the skin of a married couple with someone you've only known for six hours, you know? You have to have that comfort level as an actor and that ability to be vulnerable and open and generous as an actor and then to be able to play. And Aimee has all of those things in spades.
I like that your character's still figuring things out. The private investigator classes are fun, but why is he hiding it?
The reality is one of the downfalls, one of the things that they run into in this relationship is that Aimee's character is a very successful attorney. She works at a law firm. She's on a really clear career trajectory. And Alden has stumbled at every turn along the way and is trying to find his own direction, his own life path, and maybe also live up to the expectations that he should be somewhat of an equal in the relationship. His wife is very successful and I think he's trying to be successful in his own right.
Becoming a private detective doesn't really feel like the path to get him there necessarily. He's supposed to be taking accounting classes, he's told his wife he's taking accounting classes, she has told him he's taking accounting classes, but he has decided that private investigation will be a little more fun and fun isn't always the path that should be taken. So he's hiding it because he doesn't know how to break to her that he's again not doing the thing that he said he would.
Preview the murder investigation. How does Alden get mixed up in it?
One of the assignments that Alden is tasked with in his PI course is to follow somebody. They have to trail somebody for a week, and it can't be your wife, it can't be your boss, it has to be somebody completely random. And so Alden decides to trail one of his wife's coworkers from the law firm, and he starts to notice a few little suspicious things. When he goes into the office to investigate one of these little suspicious things, he finds a body and then feels compelled to continue figuring out how that person died.
Hopefully we're going to get more of these films in the future. What would you like to explore going forward with Alden and Birdie?
I think the fun is that now hopefully they'll be working together. My favorite bit in this movie was the disguises, and I know that there were a couple other disguises and characters that I put on that were in the script that I don't think made it into the final movie. They just didn't have time. There were a few other things that I investigated in full character, disguised in the most ridiculous way. That was the most fun that I had, and also having the couple dynamic in any of those scenes when we were investigating. There's the scene with the mustache and the pizza boxes and we go in as a couple. Those are the most fun to do, to have somebody to really play off. So with Birdie on the case with me, I'll have someone to bounce silliness off and I think it'll create a really, really fun dynamic right from the beginning. And I love those. And then anything with a disguise and an accent, I'm in.
You've written a few Hallmark movies so far. When's the next one?
Soon, I think. I'm currently writing two movies right now, one of which I may or may not be involved with as an actor. The other one I will certainly be involved with as an actor, and that would shoot as early as the summertime, could be sooner than that. But at latest is sometime in the summer.
What's on your Hallmark bucket list as an actor and as a writer?
As an actor, I would love to do one of the movies where I play twins. I know Hallmark's done it before, and I was really envious of the actors that got to do that. I'd love to play twins in a movie. And as a writer, I really want to write a big ensemble, a really complicated ensemble piece, kind of a Love Actually or something like that, with a number of different storylines that all kind of interweave and tie together at the end.
And it seems like that might be the next step, after Three Wise Men and a Baby.
Yeah, it feels like we did Three Wise Men and a Baby and it was so successful and well, what's the next step? What do we do next to kind of go bigger and better? So maybe involving half a dozen of the regular faces from Hallmark and just writing bigger and more complicated. You don't really want to take a step backwards and think smaller. Obviously we have to contend with [the fact that] the production size can only be so big, the budgets are only so big, but what can we do in the parameters of production constraints? How do we think big? How do we get bigger? That's kind of where my brain lives.
The Cases of Mystery Lane, Movie Premiere, Sunday, March 19, 7/6c, Hallmark Movies & Mysteries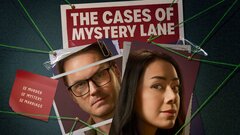 Powered by