'Gabby's Dollhouse' & More to Stream With Your Kids Right Now
Finding an educational and entertaining show or movie for your child is great, but discovering one you can all enjoy together is even better! Here are three available soon or right now that are worth queuing up on family night.
Gabby's Dollhouse
Quirky crafts and lots of cattabulousness are in Season 7 of the kids' series.
Along with her sidekick Pandy Paws, self-proclaimed kitty enthusiast Gabby (Laila Lockhart Kraner)—whose magical cat headband lets her shrink down to toy size and join her furry friends on adventures—will embark on a host of escapades packed with loads of lessons for the wee ones. That's the biggest part of the show's cross-generational appeal. "Gabby celebrates her mistakes," says exec producer Traci Paige Johnson. G
"She fails fantastically and can laugh at herself, and she knows that mistakes help her grow. She's the ultimate playdate you want to hang out with."
Season 7 Premiere, Monday, March 20, Netflix
The Proud Family: Louder and Prouder
The acclaimed animated revival series, which follows 14-year-old Penny Proud as she navigates modern life alongside an eclectic collection of family members and friends, is back for an all-new second season that promises more diversity and bigger laughs. With most of the voice cast from the original series set to reprise their roles, the popular cartoon continues to be a window into family life while also tackling important and relevant issues.
Streaming Now, Disney+
Paws of Fury: The Legend of Hank
We kid you not, Mel Brooks' Blazing Saddles inspired this animated film about diversity and acceptance among cats and dogs. Before becoming a legend, eager pooch Hank (voiced by Michael Cera) must go to Kakamucho to be its samurai protector, but the evil feline warlord Ika Chu (Ricky Gervais) hopes he'll fail. This cute, family-friendly flick has a stellar voice cast that also includes Samuel L. Jackson, Michelle Yeoh, George Takei, and (why not?) Brooks as the Shogun.
Streaming Now, Paramount+
This is an excerpt from TV Insider's inaugural issue. For more in-depth, reported coverage devoted to streaming shows from the publishers of TV Guide Magazine, pick up the March issue of the new monthly publication, currently on newsstands or purchase it online here. You can also subscribe to TV Insider Magazine here now.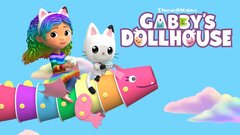 Powered by