'Three Pines' Canceled: Alfred Molina Prime Video Drama Lasted One Season
Prime Video has canceled the Alfred Molina drama Three Pines after just season. The series premiered last December and ran for eight episodes, ending on a cliffhanger. Fans are sure to be frustrated that they seemingly won't now find out what happens next.
The mystery series followed Molina as Chief Inspector Armand Gamache, who was juggling several murder investigations in an idyllic Quebec village. On the way, he uncovered long-buried secrets and faced a few of his own ghosts. It was based on Canadian author Louise Penny's Inspector Gamache novel series.
Each two-episode drop focused on a different murder mystery inspired by the novels. The season, now series finale, ended on a life-threatening cliffhanger for Molina's character.
"We are proud of the work done on the series and the opportunity to work with great partners," a representative for Prime Video told Variety.
Joining Molina in the Three Pines cast were Rossif Sutherland, Elle-Máijá Tailfeathers, Sarah Booth, Pierre Simpson, Frédéric-Antoine Guimond, Julian Bailey, Anna Tierney, Tamara Brown, Tantoo Cardinal, and Clare Coulter.
Tailfeathers reacted to the cancellation news on Instagram, per Variety, saying, "It has been difficult to process the news that there will be no second season of #ThreePines. Thank you to everyone who watched and supported the show. It meant the world to me knowing that this show resonated with such a massive global audience. As an Indigenous actor, I never thought I'd have the opportunity to be the leading woman on a #1 show like this. It was huge. Our stories matter and this show demonstrated that audiences, regardless of background, are hungry for Indigenous content."
Showrunner Emilia di Girolamo left the series after Season 1. She reacted to the news on Instagram as well.
"Thank you for all the overwhelming messages about 'Three Pines.' I know there's a lot of disappointment that the show won't be returning and I'm sad for the wonderful cast, crew and fans," she wrote. "I was not involved in the conversations and negotiations around renewal but I have been told Left Bank, Sony & Prime Video all wanted to bring the show back but were unable to reach a mutually beneficial agreement."
Left Bank Pictures produced the series, with Canadian production company Muse Entertainment providing production services. Executive producers included Andy Harries, Sharon Hughff, and John Phillips for Left Bank Pictures. Sam Donovan, Emilia di Girolamo, and Molina also served as executive producers. And it was written by di Girolamo, who adapted the novels as lead writer, and Catherine Tregenna, who penned two episodes. John Griffin was the series producer. Directors on the series were Donovan as lead director, Mohawk director Tracey Deer, and Daniel Grou.
Three Pines Season 1,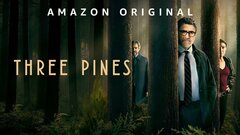 Powered by