'Sex/Life' Stars Talk That Fairy Tale Ending & Possible Season 3
[Warning: The following contains MAJOR spoilers for Sex/Life Season 2.]
The Sex/Life Season 2 finale tied all of the plots together in a shiny bow. All of the main characters end coupled up, each with the "fairy tale" ending creator and executive producer Stacy Rukeyser promised.
"This season is, ultimately, a fairy tale — a sparkly fun, deliciously sexy one," Rukeyser said in a statement ahead of the March 2 premiere on Netflix. "So those looking for more daring, empowered, female-gaze sexuality and TikTok-worthy watercooler moments will not be disappointed! There are stunning surprises for both Team Cooper and Team Brad, while Sarah Shahi continues to shine as Billie, and act as a surrogate for women (and men) everywhere who have ever wondered, 'What if?'"
Those stunning surprises were aplenty. Cooper's (Mike Vogel) surprises came in the form of his own reckless behavior as he downward spiraled from his and Billie's (Sarah Shahi) divorce. Brad (Adam Demos) had a rude awakening when he lost his company to a fraud lawsuit, and he and Gigi (Wallis Day) split after he nearly missed the birth of their son. Billie's romance with Majid (Darius Homayoun) was going great until her kids came into the mix. And Sasha (Margaret Odette) nearly lost the only man she ever loved for a second time.
Outside of the nearly soap opera-level drama (Jonathan Sadowski's Devon losing his penis in the car accident was karmic collateral damage we did not expect to see), the show delivered the sex scenes it's known for. The romantic moments were also aplenty in the new installment, which ended with Billie and Adam getting married (when Billie reached the altar, she revealed she was pregnant). Sasha and Kam (Cleo Anthony) also tied the knot.
Every loose end was tied up in the finale. This, paired with the shortened season (six compared to Season 1's eight), made us wonder if Sex/Life Season 2 could be the show's last. We asked stars Shahi, Demos, and Odette about the possibilities of a Sex/Life Season 3, and they're more than game to return.
When asked if Season 2 was meant to feel like a final finale, Demos told TV Insider, "We weren't told anything like that."
"Hopefully it resonates the same way it did in Season 1, and then you just wish for the best!" he adds.
"It'll be up to the viewers," Shahi pipes in.
"I think the thing we care about most is how our viewers ingest the show and how much they love it," says Odette. "So as long as that happens, that's the gravy."
After two seasons of shipping Billie and Brad, fans of the series would likely love to see what their married life is like in Season 3, especially with another baby on the way. There's much to be seen in Sasha and Kam's marriage as well, because as the sexy melodrama's premise makes clear, marriage isn't the end of the love story.
Viewers did see a love story come to an end in Season 2, however. Their fun romance fizzled out when the kids got involved. Majid realized he didn't want to be a parent, and Billie realized she couldn't be her full self with someone who couldn't meaningfully incorporate her life as a mother into his day-to-day routine.
Majid also was plain irresponsible with her son. What was supposed to be a trip to the ball game ended with Hudson going missing. Billie and Brad ended up finding him in a nearby park, the first hint that the former lovers were going to end up back together.
Shahi says it was important to have this new relationship before showing Billie back with her biggest love. The complications of dating after divorce/dating as a parent is a theme "that resonates with a lot of people."
"I think a lot of people who are dating and they have children, it's always a very complicated dynamic to integrate the two," she explains. "And I think for her, part of her journey late in Season 1 was that she kind of lost herself. It's like in the guise of the marriage and being a mother and being a wife, you become so many of other these other things. But she has that line where she's like, 'Where did that other girl go?' So part of her journey this season is to be able to find that other girl and what that person looks like today. She does do that in the relationship with Majid, but yes, it does not work out in the end because children are their own thing, and so they had to go their separate ways. The relationship with Majid it served its purpose."
Sex/Life, Season 2, Streaming Now, Netflix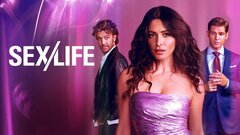 Powered by