Arrowverse Producer Marc Guggenheim Criticizes DC: 'I Really Wasted My Time'
After executive-producing several Arrowverse shows and overseeing the CW superhero franchise's "Crisis on Infinite Earths" crossover event, Marc Guggenheim didn't get a place at the table when DC Studios planned a reboot of its cinematic universe. And now, in terms of his career, he feels like he "wasted his time" on the Arrowverse.
In a recent edition of his LegalDispatch newsletter, Guggenheim — who was executive producer on Arrow, The Flash, Supergirl, DC's Legends of Tomorrow, and Batwoman — remarked on reports that DC Studios bosses James Gunn and Peter Safran formed a writers room to launch a new, unified DC Universe.
"Suffice it to say, I am not among that group. I'm not particularly surprised. In fact, I assumed that they would assemble some kind of brain trust to help facilitate what I assumed — hoped — would be a vision as ambitious as the DC Universe deserves," Guggenheim wrote. "But I'll be honest: I would have liked to have gotten at least a meeting."
He went on: "Not a job, mind you. A meeting. A conversation. A small recognition of what I'd tried to contribute to the grand tapestry that is the DC Universe. I'd only spent nine years toiling in that vineyard, after all. … Although working for DC had been creatively fulfilling, it involved a lot of adversity, challenges, and personal sacrifices — none of which seem to have accrued to any professional benefit. Simply put, the Arrowverse hasn't led to any other gigs, so it feels — at least on a career level — that I really wasted my time."
In his newsletter, Guggenheim also discussed the "apathy" Hollywood showed "Crisis on Infinite Earths," a five-part crossover event that linked the Arrowverse shows and featured cameos from characters from DC shows like Smallville, Lucifer, Doom Patrol, Titans, and even Ezra Miller and Brandon Routh reprising their superhero roles big-screen DC adaptations.
"The project, a live action adaptation of a seminal comic book series that made a significant impression on my psyche, was more than a labor of love — it was a labor in every respect and a project where I spent every ounce of capitol [sic] I'd amassed in developing DC Comics-related shows for Warner Bros. over an eight-year period," Guggenheim wrote. "I called in every favor. I used every chit. I burned every bridge. I even spent $10,000 of my own money."
After "Crisis on Infinite Earths" ended in 2020, Guggenheim's phone didn't "ring off the hook" as he thought it might, he said. "Yes — and I don't mean to belittle this in the slightest — fans loved what we did. There were tweets. There were posts. There were memes. There was much discussion. All of which I was — and remain — deeply grateful for. Working on these shows, we always reminded ourselves that the opposite of love was not hate, it was apathy, and no matter what, there was never any apathy. Except for, well, Hollywood. Hollywood met everything we did with apathy. Actually, apathy would have been a step up."
In better news, Universal isn't apathetic to Guggenheim these days: Last month, the studio picked up the screen rights to Too Dead to Die, a graphic novel Guggenheim wrote and Howard Chaykin illustrated. The story "centers on Simon Cross, who used to be America's preeminent super-spy back in the 1980s," per The Hollywood Reporter. "Today, he's retired and generally washed up, until the discovery of a daughter he never knew he had sends him out into the world for one last adventure."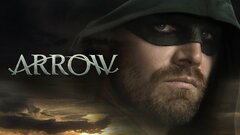 Arrow
where to stream