'Special Forces: World's Toughest Test' Winner Breaks Down Shocking Finale
[Warning: The following contains MAJOR spoilers for the Special Forces: World's Toughest Test finale.]
In the Special Forces: World's Toughest Test finale, only four competitors were left: Hannah Brown, Carli Lloyd, Dwight Howard, and Danny Amendola. Special Forces cast members only leave by choice, by necessity (medical problems), or by force from the training agents. The final four made it through most of the grueling process, but only two completed the season in the end.
The Season 1 finale aired Wednesday, March 1 on Fox, bringing the physically and mentally demanding competition to a close. In the end, the women were the last two standing, making the former star of The Bachelorette and the retired soccer pro the season's winners.
Here, Brown breaks down her time on the show, how she kept herself going, and what's next for her reality TV career.
You starred in The Bachelorette. You won Dancing With the Stars. Now, you've won Special Forces. Your reality TV track record is pretty impressive. Do you think you'll do more competition series after this?
Hannah Brown: I don't have any plans to do that. I'm really thankful for the experiences I've had — it's been a journey — and I'm so thankful I was able to complete everything that I have set out to do, but no. The Bachelorette and Dancing With the Stars was all within a year of each other. It was such a crazy, amazing experience. Coming back to reality TV, for me, had to be something special and something that was transformative and that would make me become a better version of myself through these challenges and difficulties.
That's what really intrigued me [about] Special Forces. I think I even shocked myself that I made it to the end, but I think that was also the journey I had to go on to remind myself that I'm stronger than I think and to build that confidence within myself and my abilities. It was a really special opportunity and just like icing on the cake that I was able to finish the course.
We wouldn't enter competitions if we didn't think we could win, but this contest was uniquely challenging. Did you surprise yourself with this outcome?
Being in the same room with these athletes knowing we were going to do the same thing, I didn't know how this was going to work out for me. But what I did know about myself is that this show was all about what you could handle. And I remember talking to the producer of the show before it starting, saying, "Wait, so you decide when you're done? They can't like kick me off?" They're like, "There could be situations where [you have to leave], but it's really you deciding how much you take." And I was like, "Oh, well they're not gonna to make me leave. I'm not gonna leave." [Laughs]
I didn't want to give up. I knew that I would regret it if I quit in a weak moment, so I think that was also something I knew going in. It was still surprising when you see some of these really amazing, talented, athletic people that didn't make it through and I did. It's the part that I think is really shocking and something I am really proud of.
I imagine another point of pride could be getting through those mental hurdles and pushing yourself forward. Is that true for you?
For sure. I just went to someplace in my mind that knew I've had some situations and experiences in the past that have been traumatic. I know what it feels like to be in that state of fear and persisting and fighting through that. Those negative experiences, I wouldn't want to go through, but [they] really helped me prepare for this in some way so that I was able to keep telling myself, "You just have to keep going." Even when there was a moment where that was really hard, I just had to tell myself, "This too shall pass. We will make it through this hard moment, and it will get better at some point." That's how I handled those weak moments.
I'm sure you were physically drained. What would you do to get yourself back into the headspace where you could take on the next physical challenge?
One thing the directing staff told us really fast is, when you have downtime, you take care of your body. We had blisters, I had really bad athlete's feet that was kind of out of control at one point, and you're having to constantly try to clean yourself as much as possible, which is really hard when the floor is the desert ground. You're trying to clean cuts and blisters, and there's no really cleaning it at that point.
My feet were the biggest thing, because you're sweating constantly. You're constantly wet. So you're making sure that you can dry out the socks as much as you can before you put them back on. I was constantly airing out my feet [laughs] and getting off of them as much as I could and trying to close my eyes when I could.
Also, the tricky thing is you never knew when you were going to be called to go again. The directing staff does not like to wait, so you had to keep in mind like, "OK, how long is it going to take me to get back on all my gear and be prepared?" You're really, truly, constantly on edge the entire time.
Did you feel yourself getting stronger throughout all these physical challenges?
Hmmm, I don't know [laughs]. I was definitely being broken down. That's the point of it. It's like having that mental strength to push a little bit further. I felt my body being exhausted the whole time. They put you on a calorie deficit for a reason. You're not sleeping. It really wreaks havoc on your body. I felt bad for the bigger guys. We were all getting the same [amount of food], so it was really tough.
How did it feel realizing you and Carli beat out Dwight and Danny, the final male competitors?
I was shocked. When we got paired up at the end, me and Danny and Dwight and Carli, I was like,"OK, we're going to see each other at the end of this. We've come this far, we can't let this take us out." I was honestly just shocked, especially because Danny, he had passed every task and that was just incredible. It was like he was made for this, so to not see him at the end, I was really shocked. And the same with Dwight. They're just two incredible athletes.
But I also, in that same breath, was really proud to see that it was two women at the end and what that represented for the people watching, especially the young women watching. I was really, really proud to be standing there with a legend like Carli Lloyd and hopefully being a role model and showing that women really are badass.
What's next for you?
Oh my goodness. I feel like there's so much in store that I can't wait to talk about. I'm stepping into a new chapter of my life — I'm moving back south to Nashville. That's been a whirlwind experience to even make that decision, but I'm super excited to get back closer to my roots in a town that has so much going for it.
This season of life has been really sweet. I honestly feel that the peace I have, the confidence I have in who I am, and where I want my personal life and career to go really became a lot clearer from doing Special Forces. I'm just really grateful for every experience that I've had and what I'll continue to do.
Special Forces: World's Toughest Test, Next-Day Streaming, Hulu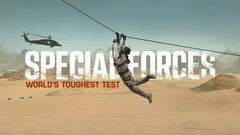 Powered by