Patrick Warburton: 3 Things You Need to Know About 'A Series of Unfortunate Events' Before Watching
Did you miss out on streaming A Series of Unfortunate Events on Netflix on Friday? That's the beauty of streaming—you can always catch up! The series is based on Daniel Handler's popular 13-book children's series about three orphaned children who attempt to evade the custody of their Uncle Olaf, played by Neil Patrick Harris.
TV Insider spoke to star Patrick Warburton, who brings Lemony Snicket to life, the omniscient-yet-onscreen author, about some of the series' most important things to know.
On Making Lemony an On-Screen Role
In the 2004 film, which starred Jim Carrey as Olaf, Lemony Snicket was a narrative voice from above. In this series, Warburton breaks the fourth wall with the character, often spewing warnings to the audience and narrating what's to come. Warburton says that idea came solely from Handler and Barry Sonnenfeld, who's at the helm of this project (and was demoted from the previous film, which was not considered a wild success).
"In this instance, it's their project and their vision," he says. "They're both really clear on that. They decided that Lemony was going to be an on-screen presence and an entity that's there to keep everything cohesive. It's Daniel's voice. Some perspective in the midst of things. It's just another dimension."
RELATED: Roush Review: Go on a Binge With A Series of Unfortunate Events and Sneaky Pete
The Amazing Casting
Though the film boasted Carrey, Meryl Streep and other major film stars, the Netflix series isn't doing half bad in the casting department either. Aside from Harris, the series will see guest stars Alfre Woodard, Joan Cusack, Will Arnett and more as some of the eclectic characters the books are known for.
"The guest cast is all great," he says. Adding, "Neil is very funny and humorous and does a lot of fantastic things with Olaf and you can tell he enjoyed the hell out of this experience other than the three hours a day it took getting him into prosthetics and makeup."
The Dark Side
The tone is dreary and depressing. Snicket is constantly warning readers and viewers to turn away. But Warburton isn't sure how viewers will perceive the tone of the series. "I don't know if the show is darker or not," he says. "Everyone's going to have their own impression of it. Some might think it's dark, some might not think it's dark enough. Some might think there's too much humor. I think it's a great tone. It's a tone that Barry and Daniel wanted. Nothing trumps the imagination and when you find yourself deep in these books, it becomes a very very personal thing. One thing's for sure, everybody will find it to be very entertaining."
Bonus: We asked Warburton, a father of four, if he read the book series with his own kids.
"My kids immediately wanted nothing to do with the books when they found out that the book's parents perished in the fire," he says. "That just made them too sad. I was like, 'Yeah but you have to read them. The parents are bad people.' So I lied to them to try to get them to read the books and that still didn't work," he laughs.
A Series of Unfortunate Events, streaming now on Netflix.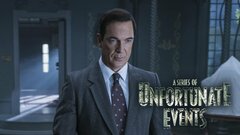 Powered by