'Yellowstone' Star Wes Bentley Reacts to Reported Kevin Costner Drama
Are Kevin Costner's scheduling bringing Yellowstone to an early end? Or is the gossip around the Paramount Network show much ado about nothing? Wes Bentley, who plays Jamie Dutton on the Western drama, believes the latter.
"The news that's come out recently about the show is, you know, it's above my pay grade. Different people making decisions," Bentley told Entertainment Weekly. "I know that they're still working on it … working on working things out with everyone, to make sure we shoot. And I'm confident we will. We always have before. I think it's probably a bit of drama over nothing."
Earlier this month, Deadline reported that Yellowstone co-creator Taylor Sheridan, Paramount Global, and Paramount Network were planning to end the show and create a new show about the Duttons, with Matthew McConaughey in talks to star. According to the outlet, the "crux of the issue" was Costner's schedule demands. Sources told Deadline that the actor, who plays John Dutton on the show, wanted to work only 50 days for the first part of Yellowstone's current, fifth season — and only a week for the second part.
A Paramount Network spokesperson had "no news to report" at the time, saying that Costner "is a big part of Yellowstone, and we hope that's the case for a long time to come."
Costner's attorney, Marty Singer, later denied the reports. "The idea that Kevin was only willing to work one week on the second half of Season 5 of Yellowstone is an absolute lie," Singer told Puck News. "It's ridiculous — and anyone suggesting it shouldn't be believed for one second. As everyone who knows anything about Kevin is well aware, he is incredibly passionate about the show and has always gone way above and beyond to ensure its success."
Costner, who just won a Golden Globe in the Best Television Actor – Drama Series category for his Yellowstone performance, is currently developing an epic Western titled Horizon, which he'll direct, produce, and star in. He told Variety last year that he's planning the project as "four different movies" that will come out "about every three months."
Yellowstone, Season 5 Return, Summer 2023, Paramount Network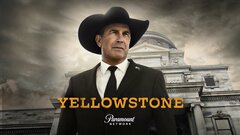 Powered by